Customer Reviews — Google Home with Google Assistant - White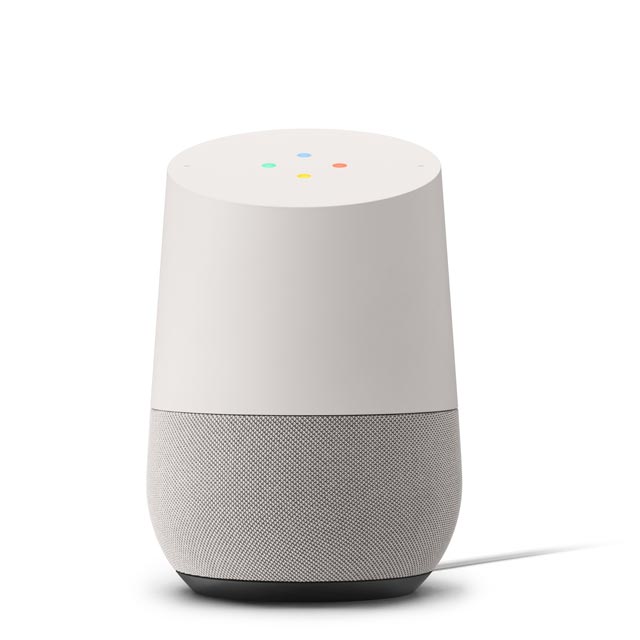 Customer Reviews — Google Home with Google Assistant - White
Google Home with Google Assistant - White
Voice-controlled WiFi speaker for your home

Ask questions, set diary reminders or get news updates

Play music from popular streaming services

Control other smart devices in your home

Works with up to 6 users with personalised settings
Quality product with outstanding sound for such a little speaker.
Brought this for my anti tech mum. Soo easy to set up and use and easily connected to her phone, that simple she didn't worry once! She actually approves!
Google Home Smart Speaker - White
Always wanted such a gadget. Glad we bought it. Took us a bit to set it up to our use and there is so much more to find out. Eventually we want it linked up to heating and security cameras etc.
Brilliant bit of tech. Spotify free and fantastic..
Bought as a present. Like the ability to control lights and heating, play music and ask google.
I like the micro phone. It pick my voice from 10 meter as well. So is good. Overall it's a excellent product. I am happy with the purchase....??????
Seen one working, gonna make a nice Christmas present, an allie from her indoors! Ken
Google is everywhere and having the Home Smart and Home Mini speakers in every home is a must. As we are all hungry for information whether it's the weather, current events, latest news and the odd past knowledge or information queries Google can help. It helps you with your shopping list, ask for it to remind you of anything and serves as a timer if you wish so. It also streams radio and you can bluetooth your music in all Home devices. And just so you know the speaker on the Home Smart speaker is superb!