Customer Reviews — Google Home with Google Assistant - White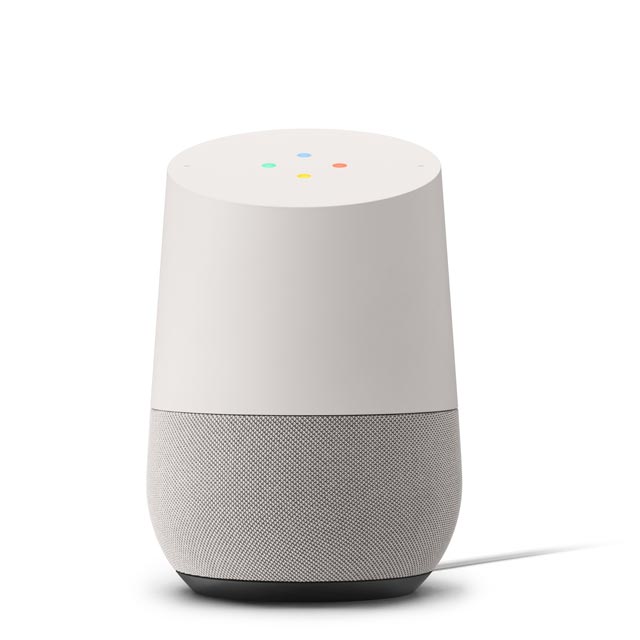 Customer Reviews — Google Home with Google Assistant - White
Google Home with Google Assistant - White
Voice-controlled WiFi speaker for your home

Ask questions, set diary reminders or get news updates

Play music from popular streaming services

Control other smart devices in your home

Works with up to 6 users with personalised settings
Bought as a present. Like the ability to control lights and heating, play music and ask google.
I like the micro phone. It pick my voice from 10 meter as well. So is good. Overall it's a excellent product. I am happy with the purchase....??????
Seen one working, gonna make a nice Christmas present, an allie from her indoors! Ken
Great smart speaker, has lots of built in skills. You can ask it anything it will always reply. From recipes and setting timers Its got an encyclopedia of information.
Google is everywhere and having the Home Smart and Home Mini speakers in every home is a must. As we are all hungry for information whether it's the weather, current events, latest news and the odd past knowledge or information queries Google can help. It helps you with your shopping list, ask for it to remind you of anything and serves as a timer if you wish so. It also streams radio and you can bluetooth your music in all Home devices. And just so you know the speaker on the Home Smart speaker is superb!
My wife and I have just had a baby so Google home makes it easier to automate our life and not have to worry about reaching for remotes/phones/watches/etc when. Feeding or dealing with a fussy baby. Highly recommended.
works very well and find goofle is more educated than alexa which I also have
Great once you get used to it
We chose google as we have a lot of music on our google music account But to get the best out of it you have to have your phone on wifi on the same network as the google home unless you want to pay for the premium subscription Set up is very easy, download the home app to you phone turn on the google home, it searches, sets up and then recommends a voice training session and you are good to go This is where this lost a star for me, learning how to communicate with google is highly frustrating at first as it won't find any of your music unless you use a specific "hey google play xxxx from my google music" if you don't get the phrase spot on or don't use the exact album or track name it doesn't find it Where the home has come into its own for me is the activities you can set up, i've set up ones for go to work and come home so I can not only text automatically but it transmits a voice phrase over the speakers to announce i'm on my way. The sound from the home is rich and full but a little bass heavy but this can be adjusted from the google home app on your phone I am already planning the next set of google compatible devices such as hive or nest + some lights