Customer Reviews — Tefal Inicio Grill GC241D40 Health Grill - Stainless Steel / Black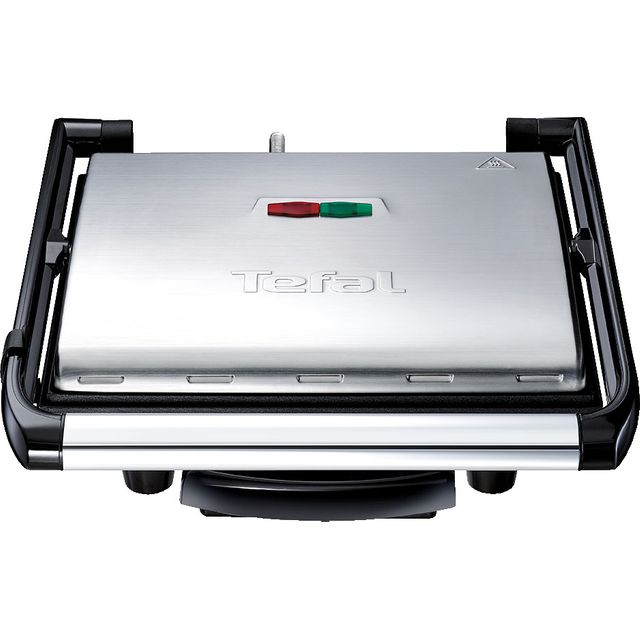 Customer Reviews — Tefal Inicio Grill GC241D40 Health Grill - Stainless Steel / Black
Tefal Inicio Grill GC241D40 Health Grill - Stainless Steel / Black
2200 Watt power output

Grease resistant, non-stick cooking surface

Clever hinge opens wide to let you cook a range of food

Dishwasher safe drip tray

Can be stored vertically
Product as described, super fast next day delivery. Will use this company again.
Very happy with my purchase ,makes the best toasted cheese sandwiches
While renovating the kitchen and living without a cooker for 3 weeks i choose to get this Grill and its been amazing. Its been mainly used for Panini, sandwiches and Toast, also managed to grill veggie burgers, sausages,felafels and vegetables. Heats up very quick. Very easy to clean. Very happy with this Grill, such a great addition to my kitchen. And like other users have mentioned -the label, try to remove the label before first use and try to peel it off very very very slow.
Best one on the market without a doubt .. highly recommend
the grill is a good size, the only problem i had was that it was very difficult to remove the sticky label from the lid before first use. it took over 2 hours trying to get it off and then nail varnish remover to get the glue off. not good. after using the grill for the first time it was easy to clean, but if the lid were to lie flat it would be easier than trying to clean it in its vertical position. the grill looks nice and is very quick cooking.
Highly recommended very good quality and heats the food very well.
This is the best grill ever. I have tried several different ones over the years but this one beats them all. It heats up really quickly and is so easy to clean. The Toasties and Paninis are amazing and the bacon and burgers cook perfectly. It's also much healthier because the fat drips into the tray and does not end up on your plate. I am very happy with this purchase and would recommend it to everyone.