Customer Reviews — LG American Fridge Freezer - Stainless Steel - A+ Rated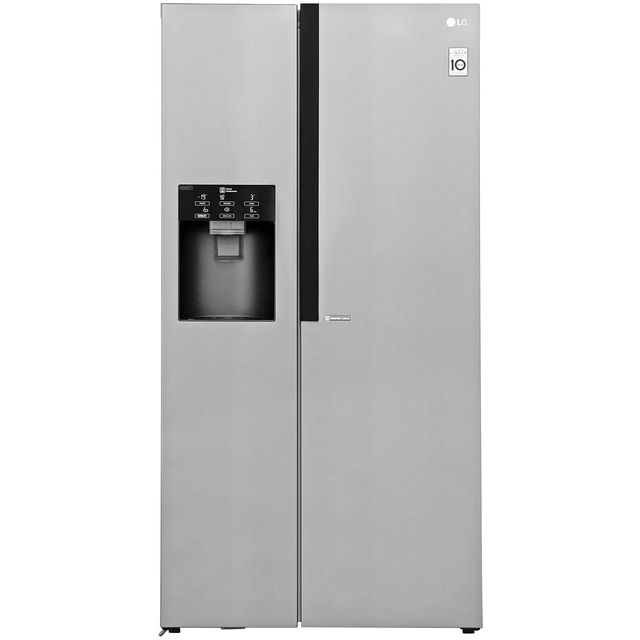 Customer Reviews — LG American Fridge Freezer - Stainless Steel - A+ Rated
LG GSL560PZXV American Fridge Freezer - Stainless Steel - A+ Rated
591 Litre capacity - holds 32 bags of food shopping

Air circulates around the cabinet, keeping food fresh

Inverter Linear Compressor is quieter & longer-lasting

Water and ice dispenser - plumbing required

Standard width - 91.2cm
Brilliant apart from the fingerprints
Lovely American fridge freezer. Haven't plumbed it in yet but it looks the part.
Fantastic product delivered with a 5 star service. Very easy to install and does everything you need. There is so much room in the fridge and freezer and the ice holder doesn't take up much room. Would highly recommend this product.
One of the drawers is broken. I contacted LG several days ago but haven't heard anything back. Apart from this it very good. Wine has to go in lying down which is a bit annoying. I like that it's on wheels so easy to move into place.
Good fridge, but a bit huge....
So i wanted a ride freezer with ice and water which this fulfils. It looks good, is cavernous, but is also very deep. It sticks out about 10cm past the normal cupboards. I may well still have bough it, but measure up before you buy. Delivery was a bit traumatic. They turned up, too one look at the 5 steps and said no. The only reason we got it in was that I had the kitchen fitters in and they couldn't use weight as an excuse with 5 of us in total. Make sure access is easy or there is load of people around top help
Had an LG before been so reliable over 15 years old. That is why I bought this machine. Good looking and plenty of space. Easy to read and understand display unit giving temperature of Fridge and Freezer separately. Nice cold filtered water with ice dispenser too. Plumbed in model. Bright interior space with Led Lighting to the side and not tucked up the back so once paced you could not see the lights, but this one really bright. All for wheels so easy to push into the space. Very quite machine cannot hear it run until you open the door. Door alarm can be muted when filling it up so no annoying alarm. Has a de-odourizer too Strongly recommend this product.
This LG is my third American style side by side fridge freezer and it was only delivered one week ago. However, I'm already impressed with the features of this one, given its very reasonable price tag. The ice-making facility produces sensibly sized ice cubes, unlike my previous one that produced ridiculously large chunks. The ice maker itself is inside the door, so doesn't take up space I would rather have in the freezer. The fridge is very well arranged and spacious and the bottle galleries in the door are all capacious and well placed. I can get four four litre bottles of milk in the upmost gallery and the bottom one has a clever curved divider that gives room for three or four two litre bottles of water, cola, etc. plus room for four or five cans in front of them. My only gripe is the water dispenser - although there is sufficient room to fit a sports type water bottle under it, the water goes everywhere but in the bottle. Suffice it to say that I get round the problem by filling a jug then decanting into the water bottle, and it's too small a problem to change my opinion that it's probably one of the best on the market. My favourite out of the three I've owned so far.
Lovely sleek fridge freezer
Very early for a review, but so far love this fridge. Really spacious inside and easy to operate. Looks stylish, but also practical.
It's early days but we are loving our LG American fridge/freezer. Although it's outwardly the same size as our old Samsung the inside space seems much bigger. I am missing a sliding drawer which I used to store bacon and sausages but the amount of storage space far out ways that. It also seems to have a very bright light which enables me to see everything inside very clearly. I love it!