Customer Reviews — Tefal Pro Express Care Anti Scale Pressurised Steam Generator Iron - Red / White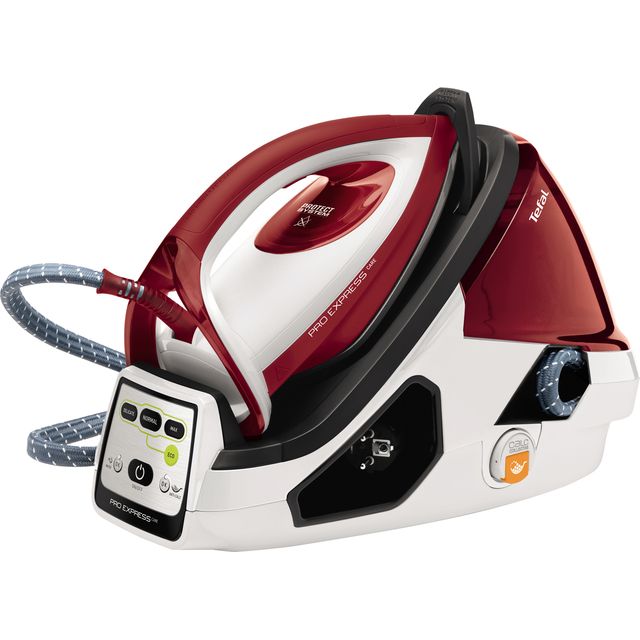 Customer Reviews — Tefal Pro Express Care Anti Scale Pressurised Steam Generator Iron - Red / White
Tefal Pro Express Care Anti Scale GV9061 Pressurised Steam Generator Iron - Red / White
Pressurised for extra powerful crease removal

Specially designed soleplate with auto-clean coating

Continuous steam output of 120 grams per minute

Heats up in just 2 minutes

Prevents limescale build-up and protects your iron
Very effective iron, now lighter and quicker to use than the previous iron
This replaces another tefal steam iron and I've not been disappointed. It's a lot quieter than my previous model and a little lighter. The controls are now electronic and easy to use. The steam generator generates steam quickly and quietly and it makes ironing a more vaguely enjoyable chore.
Our 2nd Tefal steam generator iron
Its my wife's steam generator iron. She had the previous Tefal Steam generator model for we think well over 12 years but unfortunately the parts required to repair it are now unavailable. So we decided to buy another Tefal because the old iron had been faultless and given excellent service. The new model is very similar, maybe not so powerful but never the less performs according to my wife just as well. The only disappointment is there is no automatic cord retraction on the new model or a fold over cover.
Great iron. Replaced similar Tefal I have given my daughter. Irons just as well. Great! Thought it had retractable plug cord. It doesn't. Shame. Looks like it does in the photograph.
I've just upgraded from a Philips steam generator to this Tefal Pro Express - so far I really like it - it's lighter but blasts out steam stronger than the Philips one. Also I really like the anti calc system which was lacking on my old generator. The Tefal Pro Express is very easy to use - only three settings plus eco and steam boost - stores all the hoses and leads within itself. Recommend. Excellent price on AO.com
Absolutely delighted with my new high pressure steam generator by Tefal. I used to hate ironing but now I actually don't mind at all as this product steams through a basket full in no time! Large water tank means no halfway filling and the digital display is simple to use and understand. The sole plate is very well shaped and made and I'd definitely recommend this to anyone. Great blasts of steam at the touch of a button. Excellent product.
Once I had worked out where the water went it was all really straight forward. It is great being able to adjust the levels of steam at the touch of a button and the speedy heat up is fantastic especially when someone in the household wants to wear an item in the ironing basket!
Great iron , warms up in couple minutes , great options when ironing , delicates , normal , max , if like me ironing is not one of your favourite jobs get an iron that can steam through it as quickly as possible. Would recommend this iron for anyone with a large family who irons a huge amount weekly !