Customer Reviews — Miele Electric Single Oven - Clean Steel - A+ Rated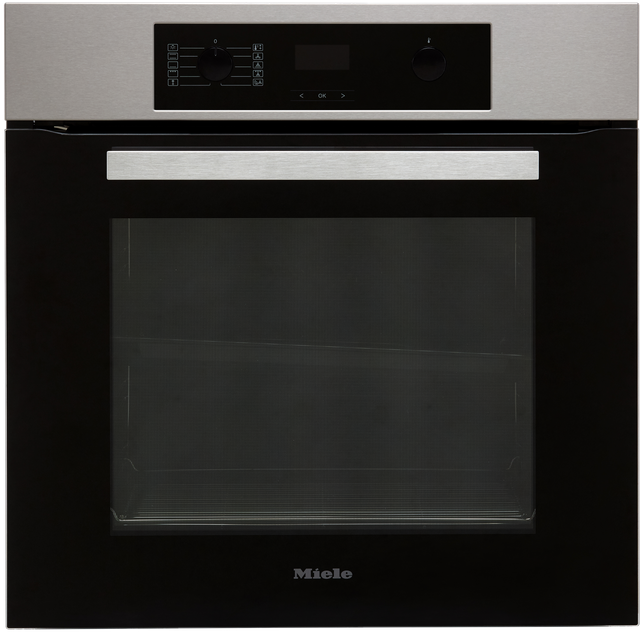 Customer Reviews — Miele Electric Single Oven - Clean Steel - A+ Rated
Miele H2265-1B Built In Electric Single Oven - Clean Steel - A+ Rated
Large 76l multifunctional oven has lots of programmes

Oven heats up rapidly so there's no need to preheat

Precise temperature control for incredible results

Special liners absorb grease to make cleaning easier

Tested for the equivalent of 20 years' use
Happy overall with the build quality and functionality. Simple options and does the job.
Good oven but small design flaw.
Only had the oven for a short time but it seems fine, however, for an expensive oven, it has a bit of a design flaw. The display panel is black, and so is the left-hand selector knob. It has a line in it (black also) to indicate which programme selection is being made. this makes it difficult to know which programme has been selected, particularly lower on the dial. I'm surprised that Miele did not pick this up. I guess we'll get used to it.
Fantastic it warms up really quickly compared to my last oven it was a Smeg which I wouldn't buy again. Our new ovens cooks much more even and quicker. We know it was more money but worth every penny .
We can feel the quality of Miele. So far so good, except the fact that the light does not work anymore after just a few days...will contact customer service. Heat Fast
The oven is spacious and heats up quickly. Very happy cook!
Fantastic Electric Oven. Needed an Oven that would allow me to have the same electrics without having to change over to a 13amp. I'm still using the BIG red switch (32amp) and I have to say this oven is the one to go for when considering set up. This oven operates better when pre heated. This can take between 5 to 10mins depending on the meal being warmed up. I used to just turn on the oven, whack in the food and leave to warm through. I tried that with this oven and it just resulted in longer cooking times. So, we now pre-heat and stick to the cook times as per norm. The temp is seen via the digital screen and is turned up or down with the dial on the right. A lot of oven features with the left dial but I've only used the Oven (two lines) and the grill (3 stars). Overall a great addition to our kitchen. Food being cooked is on point.
You know you're getting old when you get excited about an oven. Love the speed at which it heats up and my cakes now rise perfectly due to the even heat distribution. Thoroughly recommend this product.
Great and best I ever have before .