Customer Reviews — Miele ContourLine Electric Single Oven - Clean Steel - A+ Rated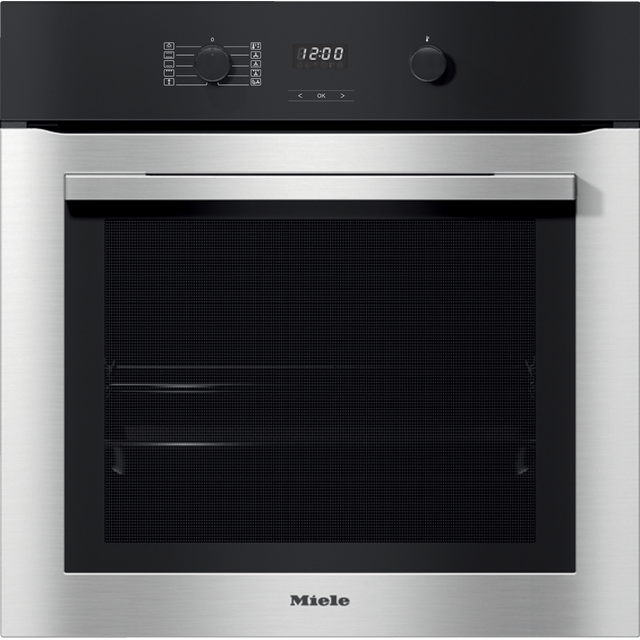 Customer Reviews — Miele ContourLine Electric Single Oven - Clean Steel - A+ Rated
Miele ContourLine H2760B Built In Electric Single Oven - Clean Steel - A+ Rated
Large 76l multifunctional oven has lots of programmes

Oven heats up rapidly so there's no need to preheat

Precise temperature control for incredible results

Special liners absorb grease to make cleaning easier

Tested for the equivalent of 20 years' use
Perfect and looks great - a high end oven. Very pleased.
Good product, well manufactured. Hopefully, will prove reliable and trouble free.
We are thrilled with this oven. The rapid heating function is brilliant. Still only been a week but we wouldn't hesitate to recommend it.
Miele oven absolutely fab
Fantastic oven, looks great and so efficient, heats up really quickly and indicates when it has reached desired temperature. Easy glide runners are fantastic, really appreciated at Christmas when cooking a huge heavy roast
Overall, I am pleased with this oven. It is very sturdy and well made. It heats up much more quickly than my old one and I like the way the temperature is displayed as it goes up. It gives good results for baking and the temperature seems accurate. The timer is a bit fiddly but fine when you have got used to it. My only slight reservation is that the controls are very difficult to see. They are very small, black on black, and because the oven sits on the floor with a hob on top, I have to get down on my knees to set the timer or the oven setting. If it was higher, it wouldn't be such a problem, but that isn't possible in our kitchen. But still a good quality product and I am happy with the purchase.
love the oven. heats up v. quick. clean lines and easy to clean
An excellent product. Quick to warm up, exact temperature control and easy to use.
The Assurance of Quality is well founded, Miele
What attracted me to this cooker was the brand's reputation with family, friends and other people I meet. What drew me to this particular model was the A+ rating, it's control settings and 'easy' clean. What I wasn't expecting and was pleasantly surprised to discover was the clip on/slide out action for the tray. Sometimes when cooking you need to pull the tray out a little to get a cleaner hold of the dish your cooking in. Having this mechanism saves me burning the oven gloves (fellow amateur cooks, you know what I mean). Not having to preheat the oven is welcome too for us who hate the idea of wasting energy. The Guarantees and Assurances of longevity were the clincher after comparing with other makes & models. If you want to invest you money, I recommend this oven, the foods cooked so far have been top notch.