Customer Reviews — Hoover Slimline Dishwasher - White - A++ Rated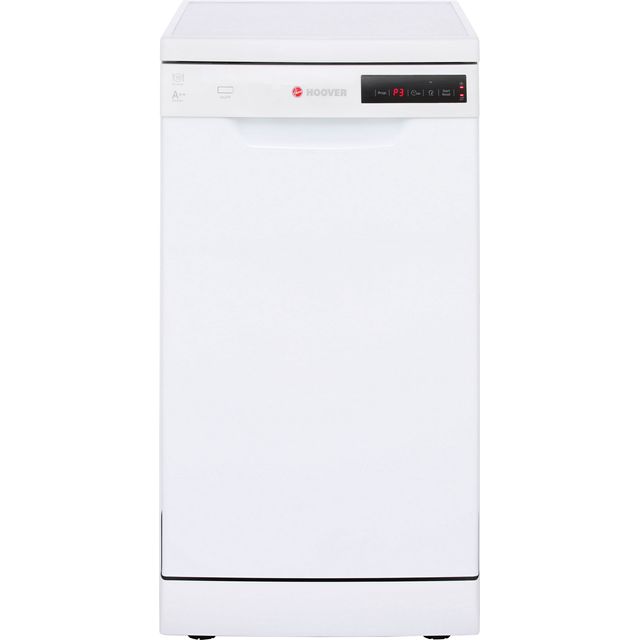 Customer Reviews — Hoover Slimline Dishwasher - White - A++ Rated
Hoover HDP2D1049W Slimline Dishwasher - White - A++ Rated
10 place settings - great for compact kitchen spaces

Really efficient A++ energy rating

24 minute quick wash - great if you're in a hurry

Eco programme helps to saves energy, water and money

Dimensions (cm) - H85 x W45 x D58
excellent dishwasher compact but dynamic , many programs
I needed a slim line dishwasher rapidly and so were brilliant ! Fast response times to my order and quick delivery - all at a good competitive price. The delivery driver was on time , unpacked my dishwasher and slotted it into place - very pleasant man. Very happy with the service once again !
It is great to find a product that has a countdown timer and a short programme.
Great dishwasher for a small household
Easy to use dishwasher for a small household. Efficiency rating is great.
Great cleaning, disappointing drying
Easy to unpack and recycle packaging - dishwasher securely packed and in pristine condition. Input and waste hoses could be a good 0.5m longer; I had to move the washing machine out so I could get the hoses to reach water inlet and waste points. To install between cupboards would've been much harder, requiring the moving of at least one cupboard - that's silly cost saving - just charge a few quid more for decent length hoses. Used 3 programs so far, including quick wash, and the cleaning is outstanding. Running is quiet. However the dishes don't dry well and the dishwasher leaves water on all internal surfaces - using Fairy platinum as recommended so it's the dishwasher not the tablets. It's a nonsense to have outstanding cleaning but have to then dry with a dishcloth, reintroducing germs to cleaned dishes even with the cleanest dishcloth. And of course the inconvenience of having to dry items before putting away. I also think the prongs are a bit too close together making it difficult to stack deep dishes efficiently. My old dishwasher had more widely spaced prongs and much easier to stack all sorts of shapes and sizes. It's not bad overall but I do wish I had chosen differently.
A great product. 5/5 performance in the 6 months I have had it so far. ***** It has cleaned fondue, lasagna, Weetabix porridge etc all perfectly. ***** The top rack can for quite large things in for example a kitchen aid /kenwood chef mixing bowl. **** Simple to use. A tad noisy but i think all diswahsers are. Plus I don't mind the sound of my washing up being done for me! A few water spots on glasses but again just wipe with a cloth and they are gone :D ***** I use sainsburys prism capsules and they work well in the machine. ***** I think this is the least deep dishwasher I could find online so if you don't want a machine to stick out from your worktop too much, might work for you.
Have tried dishes, greasy pans and glasses. Copes well on normal setting for greasy pans, eco setting for regular dishes. Eco setting seems to take ages. Quick wash works well.
Nice little machine. It fits all of the washing and cooking from GF and me. cleans well