Customer Reviews — Hotpoint Fully Integrated Standard Dishwasher - Graphite with Fixed Door Fixing Kit - F Rated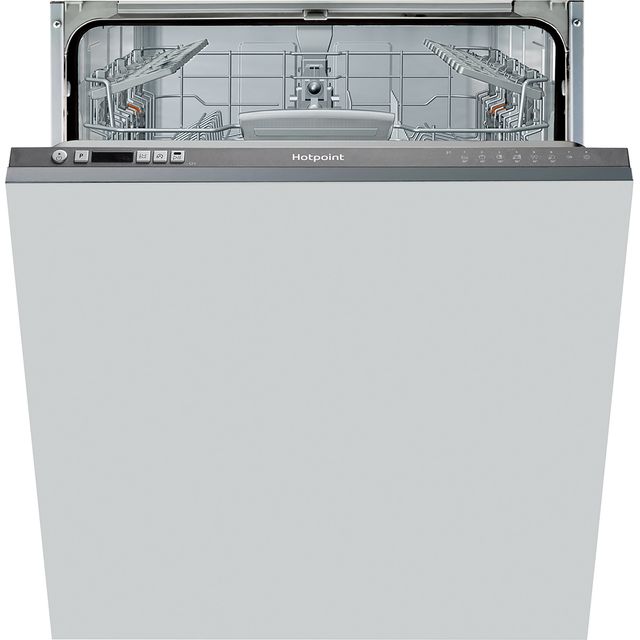 Customer Reviews — Hotpoint Fully Integrated Standard Dishwasher - Graphite with Fixed Door Fixing Kit - F Rated
Hotpoint HIC3B19CUK Fully Integrated Standard Dishwasher - Graphite Control Panel with Fixed Door Fixing Kit - F Rated
13 place settings - great for medium-sized households

30 minute quick wash - great if you're in a hurry

Baskets can be moved to fit larger pots and pans in

Eco programme helps to saves energy, water and money

Dimensions (cm) - H82 x W59.8 x D55.5
Works well, but sometimes doesn't try dishes completely
Good quality machine that washes a treat.Easy to install.would highly recommend
Was looking for a while. I picked this particular brand and product because of the previous reviews, it was in budget, and ticked the majority of the boxes, that I wanted in a dishwasher. Only issues I have, is that it doesn't come wirh a timer as to how long is left on the particular cycle. My other one did. I opened the door and it would be visible on the display. Slightly annoying as I would usually empty it before I went to work. But not a big problem. The tray at the top that holds larger cutlery keeps coming off. It slides to compensate for plates, mugs and glasses, but it comes off too easily. I might just remove the thing. It is very quiet and doesn't interfere when I'm watching TV.. it cleans my dishes brilliantly. Mind you, anything would be better than my previous one. So this is a little miracle for us. So lovely to finally see clean, sparkling dishes, rhat I dont have to rewash by hand... Everything was spot on with AO right up till they came to install it, which they couldn't do, due to gas pipe, that was preventing it from being pushed back. ( my other mustn't have been as deep) this wasnt AOS fault. So they were refunding me the installation fee, as they were unable to do that for us which is very good of them .
Very good product and cleans really well. Relatively easy to install and set up. My only issue is that when I put the integrated door on, it cannot have the door folded fully flat as the bottom of the door rubs up slightly against the base of the dishwasher.
Hotpoint HIC3B19CUK Fully Integrated Standard Dishwasher
Great value. Had this dishwasher a week. Tried some of the cycles: the main cycles work perfectly. The tablet didn't dissolve when I used the eco cycle. On the whole really pleased with this product.
hotpoint door and indication
The dishwasher is fine and does what it says on the tin. However, it doesn't give you any visual indication the cycle has finished. Also, I had to adapt the fixing of the door. This was because when I used the supplied template it positioned the door such that it didn't open fully down as it came into contact with the machine itself.
Happy enough with the product - functions and noise levels fine. I find the baskets quite unhelpfully organised and am constantly re-arranging things to try to fit in as much as possible. The tines in the bottom basket do not collapse making it difficult to include pans easily. The back feet being adjustable from the front was a great feature. One tip - program 4 Quick Wash does have a drying phase although the manual says it doesn't.
Very good machine - quiet, roomy and much quicker than the old machine. Happy with purchase.