Customer Reviews — Sony HT-RT4 5.1 Surround Home Cinema System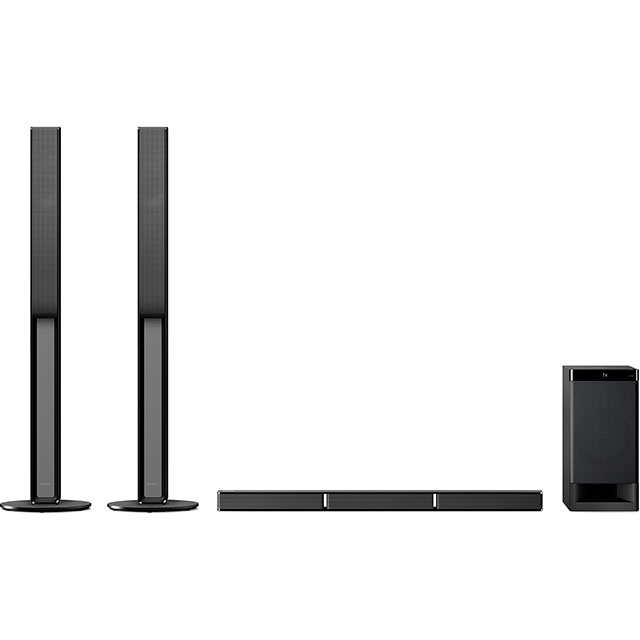 Customer Reviews — Sony HT-RT4 5.1 Surround Home Cinema System
Sony HT-RT4 5.1 Surround Home Cinema System - Black
Mixed speaker sizes for incredible audio output

600 Watts of audio power

Bluetooth and NFC enabled for wireless connectivity

1 HDMI output - connects directly with your television

1 optical port - for hi-resolution audio connection
it's not working very good with a Tv but on bluetooth working excellent
Actually the system that was integrated with my old blu Ray player, also Sony, had better sound and I'm disappointed the rear speakers are not Bluetooth as I've just moved house and really didn't want to run wires again
We love this product. it's very easy to set up and the sound quality is great. I'd say you get value for money with it. The bluetooth feature is really helpful - we can stream music from out phones. The only problems are the finish on the speakers scratch very easily, and the tall boy speakers don't detach from the base so don't really work if you want to wall mount them. Also it's worth being aware there's only 10m of cable for each speaker with specific connectors so if you're in a big room and want to hide the wires you're slightly limited.
Great choice of products, simple to use and quick delivery
Great choice of products, simple to use and quick delivery
Title says it all, it's a nice speak design, and the centre/front speakers look different than anything else I've seen and does a good job, great bass from sub, again looks well, good surround from the back speakers a shame to place them behind the sofa, easy to control and integrate to other stuff, good supply of cabling and easy to set up, you can hear it running when first started but soon disappears when anything else is audible.
My home cinema experience
I was v excited to receive this Sony Surround Home Cinema system, as an avid TV viewer and music lover I couldn't wait to hear if what I'd heard about home cinema systems was true. In this case it really is! Incredibly easy to set up, placing the unobtrusive speakers around the room helps to create a truly immersive experience.With the added bonus of Bluetooth sharing which allows you to play music from your mobile devices. This system has changed my viewing and listening experience forever! A well deserved 5 stars.
We bought this product and it was delivered very quickly and the delivery drivers were very helpful and polite. The product itself is of good quality and fairly simple to install. It feels like we are in a cinema at home! The product also looks very nice in our living room and isn't too 'in your face' like some products can be. we are very happy with this purchase.
Great product and a great sound the service from AO was just brilliant