Customer Reviews — Hoover H-WASH 500 10Kg Washing Machine - Graphite - A Rated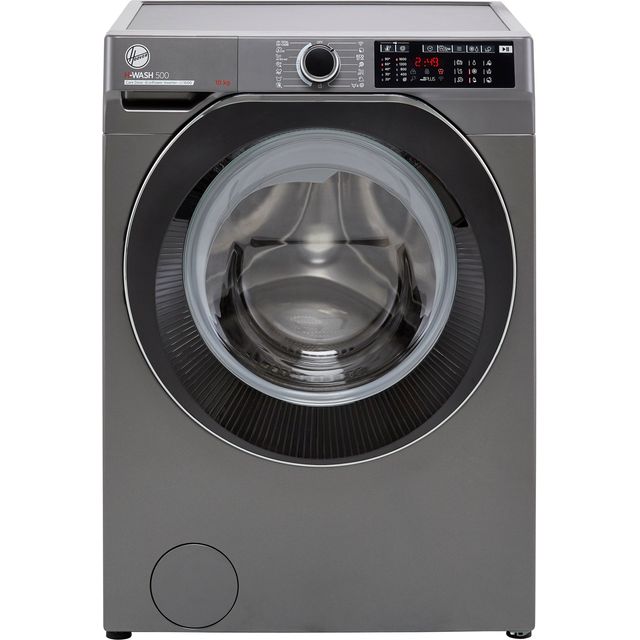 Customer Reviews — Hoover H-WASH 500 10Kg Washing Machine - Graphite - A Rated
Hoover H-WASH 500 HWD610AMBCR/1 Wifi Connected 10Kg Washing Machine with 1600 rpm - Graphite - A Rated
10kg drum capacity - great for large households

Automatically dispenses the ideal amount of detergent

Perfectly combines water & detergent to remove stains

Eco-Power motor is durable, long-lasting and quiet

Dimensions (cm) - H85 x W60 x D56
Once you get used to the tech, its great.
While the on-machine controls are fairly limited, the app allows you to tinker with each programme - which is great. I can recall seeing reviews which said that the machine was loud - when in our experience it can be on 1200rpm and you barely hear it! Only run the thing 3/4 times since we installed it a week ago, but it's clearly economic, quiet and can take loads of washing as and when required. Very happy for the price.
Excellent. The 15 minute wash is particularly useful. I use the delay timer function a lot. Would recommend.
It's brilliant only uses half the detergent as my old one and so quite
This washing machine is a A++++ STAR in our opinion. Easy to use and easy on the eye.
Full load quick wash no problem!
My trusty Candy gave up after 16 years of service without fault. It was able to do a full load quick wash in 1 hour which became my main criteria when choosing the next washing machine. Surprisingly, after downloading and checking the manuals of various brands, Hoover is in the extreme minority that are able to do this! A German brand advertised this same capability but their own manual said otherwise. So, I'm very happy with it so far as it's very quiet and easy to use. It's controllable via an app which was easy to setup. It works fine but I prefer to use the controls on the machine which has touch sensitive buttons that don't need to be pressed but just fully covered by your thumb before they'll beep. My experience with the Candy brand has given me full confidence with this brand to provide plenty of faultless years of service to come.
A great washing machine with large drum capacity for a busy family. Many different washing cycles that can be taylored to your own needs. Can be worked manually or through the app. Very quiet spin cycles too.
Too early to fully rate the washing machine but first indications are it`s a good buy. Very quiet compared to our last one. Lots of different options and takes some getting used to and learning. I would say not 100% straightforward to operate until you`ve taken the time to read the paperwork. Connected via Wifi easily. Large drum. Happy so far.