Customer Reviews — Haier 8Kg / 5Kg Washer Dryer - White - D Rated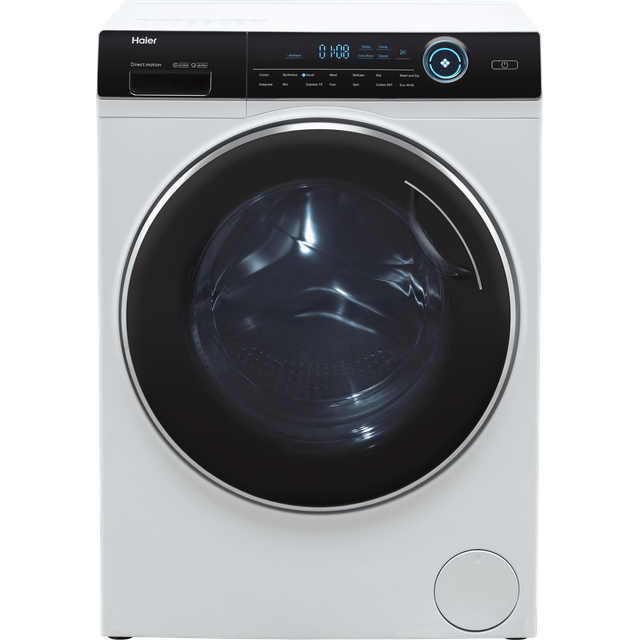 Customer Reviews — Haier 8Kg / 5Kg Washer Dryer - White - D Rated
Haier HWD80-B14979 8Kg / 5Kg Washer Dryer with 1400 rpm - White - D Rated
8kg wash & 5kg dry load - great for medium households

Special allergy setting, great for sensitive skin

I-Refresh tech dewrinkles & refreshes delicate fabrics

Super quiet model - great for open plan living

Dimensions (cm) - H85 x W59.5 x D46
Excellent piece of equipment for everyone with kids. Clothes are so soft!
It looks sleek and modern exactly what I was looking for. It does appear slightly darker in person than it does on the images but that I assume is due to different lighting conditions. There isn't any info on the different programmes included although it does tell you how to change programme. Only used once so far, but so far so good. Installation was easy, but it is very heavy to move into a tight gap, that said installed on my own.
I am very happy with the purchase of this product. This is the first time I have bought a washer dryer; having come from furnished renting to unfurnished and there were so many options on the market. This is the first one my eyes were drawn to, and despite there being perks of other washer-dryers, this is the one I went back to. It works great, doesn't use much energy and is very quiet. I love the way that it looks. The only thing I wish was included in this product was an add-wash function.
Been using this washer dryer for a week or so now. So impressed with this machine. Super quiet, looks high end, loads of settings to choose from, and clothes come out bone dry (if you select the correct dry setting). My only negative is the VERY annoying end chime 'melody' which lasts about 15 seconds. So unnecessary! You can turn it off easily, but then you have no indication when the wash cycle ends.
Excellent Product, Recommended if you can afford it.
The main reason for choosing this model was the shallow depth which was needed due to the location. However, the washer dryer is very well specified, with lots of mods, and works very well to wash and dry clothes. It is available in three sizes, this model is the smallest and the only one to fit in my case. It also does not have any Bluetooth or WiFi connectivity which is something that I was looking for to avoid getting a smart appliance. Having used it for a couple of weeks I can find nothing to say against it at the current time, except for the price, but I guess that you do get what you pay for in this instance. One of the nicest aspects is that it is quite quiet in operation, with a closed door between you and the machine there is no noise to speak off.
Very happy with this machine, it is very quiet.
Brilliant machine that screams luxury - the drum lights up as you load it! It's for a holiday cottage and I've only completed a couple of test washes so far but the controls seemed quite intuitive to use. I'm looking forward to staying and using it properly, we'll see what our Xmas guests think. It's in an open plan area so I chose it mainly for its quietness claim, again let's see how the guests react. Having never heard of the make I was a little dubious but the good reviews swung it, so far I would recommend. The manual is the only thing that seems lacking, a quick guide to all the programs would have been a useful addition and the installation instructions were not clear in parts and had us removing the back panel to take out transit bars that weren't even there.
Looks good and so far works well. Does take a long time on wash dry economy mode all day. Not a problem though as leave on morning and ready by bedtime.