Customer Reviews — Hyundai HY2175 18 Volts Cordless Combi Drill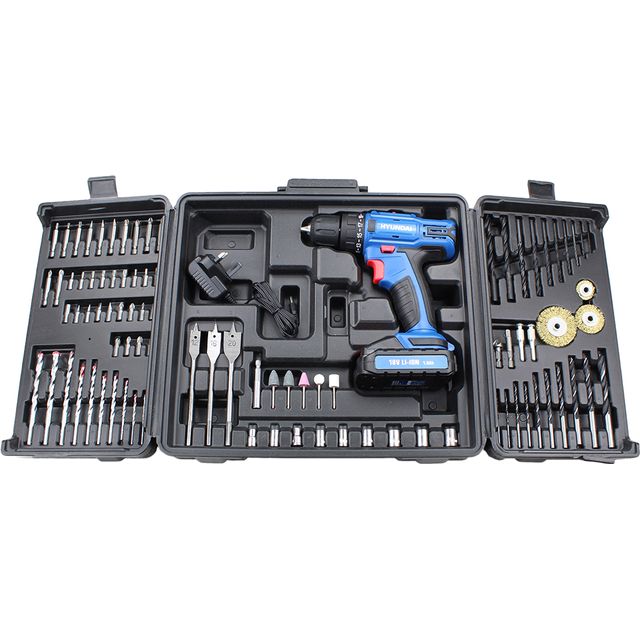 Customer Reviews — Hyundai HY2175 18 Volts Cordless Combi Drill
Hyundai HY2175 18 Volts Cordless Combi Drill
Battery powered for wire-free DIY

Combi drill effortlessly works through tough materials

Variable speeds and reverse function give extra control

89 piece drill bits and accessories kit included

3 year manufacturer warranty
Great value cordless drill
Great product. The drill is easy to use and comes with so many accessories.
Excellent tool at a very good price.
Very happy with product does exactly what I need it 2
Very happy and excellent price
Excellent product and all the bits inside are great would recommend this product for diy around the house
Great product, good price and quick delivery
For the money it's ideal for home and diy use , very good selection of bits and screw driver bits.
The drill itself is lightweight and easy to use. It is just as good as some other higher end combi drills I've used. It's easy to change the bits and direction of the drill. Some others I've used have been heavy and long winded to change bits. For all my little home projects this is absolutely perfect. I do sometimes have trouble with using my hands due to fibromyalgia, but because this is light weight, I dont have to worry about the weight causing me any issues. I gave 4 stars not for its performance but for the fact 2 drill pieces were missing from the kit. Which does annoy me slightly..I assume it's just an unlucky mistake and this wouldnt be an issue accross the product line. Aside from that the product was worth the price paid. The box is easy to store. It has pretty much everything an at home d.i.y enthusiast would need like myself. I am not trade. Just an avid d.i.y lady who always has ideas...and now I can finally do them with this little drill and not keep borrowing my neighbours....?? I'd buy it again having used it and I'd reccomend it. I like how neat and easy to access all the pieces are.
The battery is tiny so not much running time,i thought a combi driver meant hammer action (my mistake)