Customer Reviews — Indesit Advance Gas Cooker - White - A+/A Rated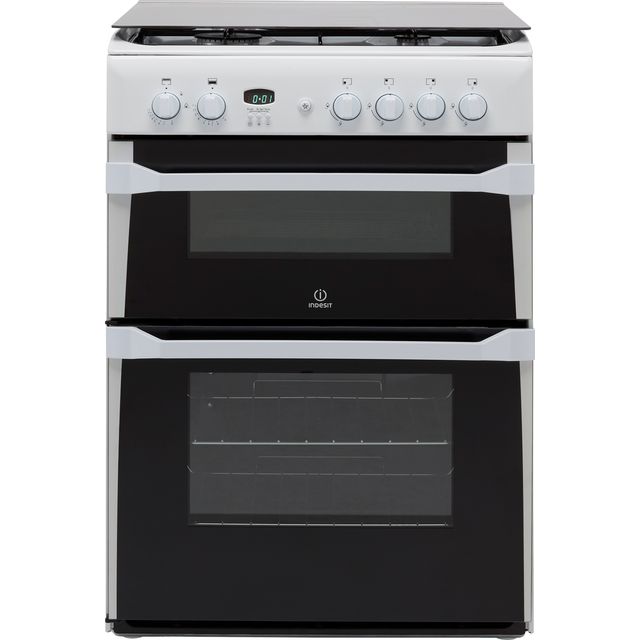 Customer Reviews — Indesit Advance Gas Cooker - White - A+/A Rated
Indesit Advance ID60G2W Gas Cooker - White - A+/A Rated
Rated A+ for energy efficiency

Main gas oven is great for traditional cooking

Second gas oven gives extra room to cook more at once

Grease-proof enamel coating makes oven cleaning easy

Dimensions (cm) - H90 x W60 x D61
The only niggle I have is that it doesnt have a light in the top oven.
We had a good gas cooker but this one is so good, and for a great price that we have absolutely no regrets about buying it. Well packaged and presented, we love the grill and top oven which seem pretty efficient. The electrical ignition works a treat. The FSD-compliant hobs take a few times to get used to but really work very well, and it all looks great. The only tricky problem we had was fitting it in because the glass lid needs to have space above the cooker right to the back and some cupboards were a little in the way, so do check you have a good 70cm height clear above the full width of the cooker. Great oven space. Fits snugly in a 597mm wide gap (fortunately!) Very good sturdy handles.
Plenty of room in the bottom oven alone for doing a roast dinner. Top oven ideal when you only need one shelf. When the oven is on the outside of it stays cool. Excellent service from both the sales and delivery teams. I never buy the extended guarantees on household appliances but this one was such good value for money that I did. The only criticism I have is the grill. The handbook recommends heating it up for ten minutes but even then it only cooks part of the food and you have to keep rotating it. It's worked okay for most things but by the time you've done toast it's a bit hard. Might have to get the toaster back out.
A well designed and well built cooker with two proper ovens, obvoiusly designed by someone who actually cooks! All the burners and controls are where they should be - the largest and smallest burners are at the front with controls at the far left and far right, with the medium sized burners at the back for simmering/boiling.. The ovens are both of excellent size and temperature control is good, with a good hot grill that warms up reasonably fast and automatic light in the big oven, when switched on The grill pan can be placed on the door, which opens flat , which turning food, unlike some other manufacturers products.
great value for money, looks nice, fast cooking and top oven or grill option is very useful. will be good for cooking xmas dinner i think!
This cooker does all that we want. The simmer settings are excllent, allowing us to brew strong Italian-style coffee without fiddling with the knobs. A HUGE improvement on our previous cooker (of a different make) At the beginning we had a slight problem with interpreting the manual, but this was resolved by helpful after-sales service.