Customer Reviews — AEG OkoMix Technology 10Kg / 6Kg Washer Dryer - White - A Rated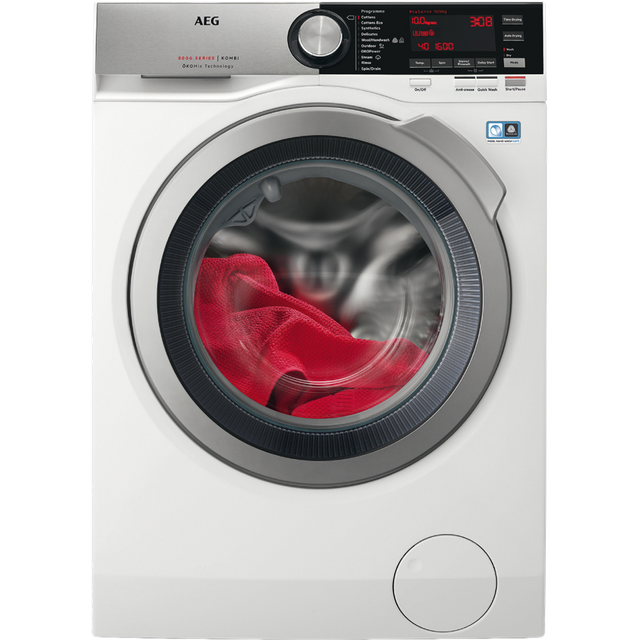 Customer Reviews — AEG OkoMix Technology 10Kg / 6Kg Washer Dryer - White - A Rated
AEG OkoMix Technology L8WEC166R 10Kg / 6Kg Washer Dryer with 1550 rpm - White - A Rated
10kg drum capacity - great for large households

Rated A for energy efficiency

Settings are automatically adjusted for better results

Gives great care to all fabrics as you wash and dry

Dimensions (cm) - H85 x W60 x D66
Great product. Really impressed with all the features of this washer dryer.
The washing function on the machine is great- detergent etc pre mixed and clothes come out well. The spin is very quiet, but very effective as clothes are not very wet when finished. The drum is also a great size. Still trying to work out best ways to use drying function on different items (mixed results of not dry enough or dried too long).
Impressively Great Product
I moved house recently and left behind my trusty AEG washer/dryer which was 14 years old. I hesitated buyer the top end of the AEG current range (Spring 2018) as reviews were a little mixed on the noise. However, my unit is in a cupboard and so I don't hear it that much. I like the quick wash options as well as the fact that this machine takes a bigger load. I'm still a fan of the 1600 spin and don't see any issue with creasing. The fluff is collected in a neat and easily accessible part of the machine. Overall, expensive at the top end but I'm happy with it and hoping this machine lasts as long and without problems as my last one. I should say that I'm a single household occupier so perhaps not using the machine as frequently as mostly family households.
Firstly, the product does not fit under the average kitchen work top. The front top design is CURVED & protrudes.. a .bad design feature. In pulling out the draw it has broken. You cannot therefore put washing powder & Conditioner in the drawer. I asked for a replacement drawer 3 months ago & I have still not Received it !!. Secondly, the QUICK WASH programme is much too long at 50 minutes .
I've only had the machine for about a month now so still quite new to me. Washer: - not as quiet as I would have liked. Although it isn't massively loud, I do find myself closing the door between the kitchen and the utility room and quite glad it isn't in an open plan area - have used the main wash programme for Cottons mostly and it cleans well, however it does take 3 hours to complete, even if the load is only 4-5 kg (not the 10kg full capacity). Once I tried using a different programme (delicates) just to speed things up, but was disappointed on the cleanliness at the end. So I recommend using the long programme and being patient. - I seriously doubt the drum is big enough for a 10kg load. The most I've stuffed it with is about 6kg and I couldn't see how it would be able to fit more clothes in there as it looked pretty full already. And we know clothes need space to move about in order to get better results. Just my 2 cents, maybe I should just push more clothes in and see what happens. Dryer: - I only really use the dryer for puffer jackets that need to fluff up again (the rest of the time I just line dry my clothes and save on energy). This is actually the first time I've invested in a dryer for this reason. - having said that, I found the dryer works very well, and is quieter than expected - also dries quicker than expected, the first time I set it to cupboard dry (which was expected to take 2.5h) but my jacket was ready after 1.5h!
I am very happy with the washer/dryer so far but have only had it a few weeks so have not taken advantage of all the programmes as yet!
Fantastic sized washer dryer
Having received this washer dryer in record time from AO.com it was time to put it to action. The wife loaded up the washing machine which automatically weighs the washing and sets it's own time for the wash. This is a fantastic idea which we didn't have on out previous washing machine. The only downside I see is there is no quick wash in under an hour like most washing machines in this price range. It's nice and quiet and you don't even realise it is on most of the time which is fantastic in a kitchen.
Only had this a week but already very happy with both washing and drying output, which is better than the previous machines we've had. Cotton wash then dry feature using heavy bath towels were an issue with our last machines but no problem for this one. Surprisingly quiet for a 1600 spin, and not too heavy making it manoeuvrable when necessary (we had a 1200 spinner with a ridiculous weight).