Customer Reviews — Samsung MW5000H MC28H5013AK 28 Litre Combination Microwave Oven - Black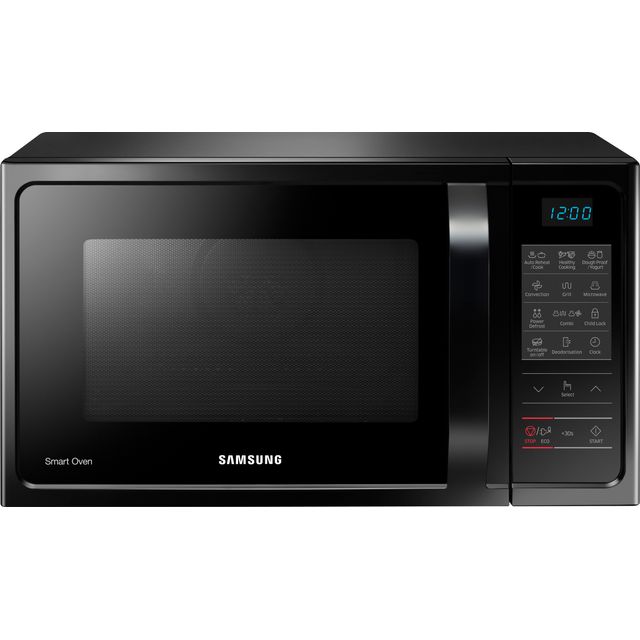 Customer Reviews — Samsung MW5000H MC28H5013AK 28 Litre Combination Microwave Oven - Black
Samsung MW5000H MC28H5013AK 28 Litre Combination Microwave Oven - Black
28L capacity & 31.8cm turntable for large dinner plates

900 Watt power output – cooks food rapidly and evenly

Neutralises aromas and smoke after cooking

Automatic programmes take the guesswork out of cooking

Dough proving function helps dough rise and expand
Better than the previous model, grill cooks much quicker and display is much easier to understand.
I'm just getting used to my new microwave combi and I'm loving it. At 900 wt the microwave is more powerful than the one I had previously..less cooking time....the convection is as good as my oven except you can only cook 60 mins at a time. The grill works well but I haven't tried all the combinations yet. I find myself a little frustrated with the timer. It works well on the seconds but the touch screen seems to be temperamental on the minutes..hence 4 stars
Good looking, good value replacement for previous combi .
It's a pity that the temperature of the oven only goes up to 200 - my previous microwave went up to 230. In microwave mode it is a bit noisy otherwise it's a good little oven.
Good value attractive unit Controls ok if fiddle some Hope it lasts!!
Very pleased with this product, did a lot of research and decided on this particulars item. Efficient, cooks as expected , would strongly recommend.
This is a lovely looking microwave oven its got a large oven that is also a conventional oven and a grill, perfect for large families. The only issue i have is the instruction booklet.
It does the job, but I'm underwelmed
To be helpful, the unit was very quiet on the first couple of uses. Now three weeks later, it seems to make a lot more noise when using the microwave. Also, coming from a microwave with a twist-able knob to set the time, I find having to push buttons multiple times to set, for example, Maximum power for 5 minutes cumbersome. I question how long the plastic keypad is going to last pressing the same button over and over. And, this is not to mention the likely manufacturing defect of having some thin metal ribbon behind the keypad causing a 25mm crease on the face of the keypad.