Customer Reviews — Smeg MFF01PBUK Milk Frother Pastel Blue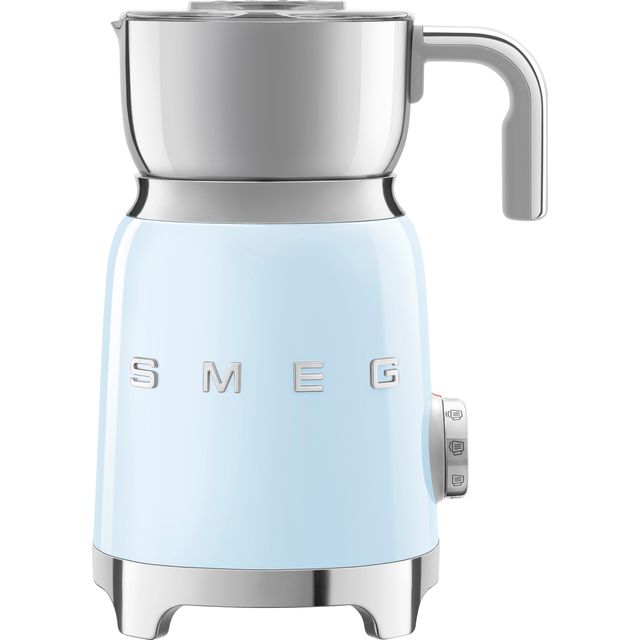 Customer Reviews — Smeg MFF01PBUK Milk Frother Pastel Blue
Smeg 50's Retro MFF01PBUK Milk Frother - Pastel Blue
Make up to 250ml of frothed milk from a single use

7 settings to choose from

Gently heats milk to create delicious froth for coffee

Warms your milk using clever induction technology

Controls light up when milk is being frothed
Exceptional, does it perfectly.
Looks the part and does the job very well.
Well worth the money! Melts chocolate into milk for the best hot chocolates. Froths up full fat milk perfectly for a nice latte! Also looks super cute on the kitchen side, not an electrical I need to hide at the back of the cupboard.
Fantastic cocktails maker and more
Great product, i love the fact you can make cocktails like espresso martinis, turmeric lattes, hot chocolates, matcha lattes. It's amazing and looks super cool in our kitchen. A must buy!
Lovely to look at, but......
Purchased this product recently, which I must say....looks superb on my kitchen work top. Unfortunately I am very unimpressed with the milk temperature. On both the dense foam & the regular settings, the milk is what I would call luke warm. I prefer my latte piping hot, but I can drink it straight down using this machine, rather than sipping & savouring! Can I return under these circumstances?
High quality item in lovely bright colour. Christmas present for my son and I know he will love the retro style and the functions as he is a coffee and hot chocolate lover.
Costly and lukewarm disapointment
Looks fantastic, easy to use however for the money the front button could be sturdier and the milk only ever gets lukewarm no matter which set, I have to heat it up in the microwave
Having read a lot of different reviews on other brands I wanted a milk frother with a reasonable capacity. I purchased this as it was the best I could find for my requirement. It is very easy to use, very easy to clean and very quick to heat and froth the milk so perfect for a tall latte. I have yet to try hot chocolate yet but brilliant and worth the price.
Frother disappointing but otherwise easy to use instructions not clear about the stirrers and how touse