Customer Reviews — Bosch Hand Mixer - Black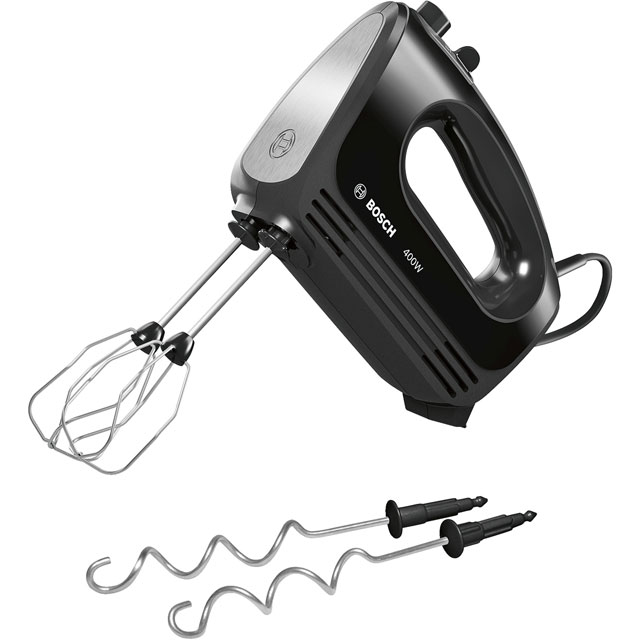 Customer Reviews — Bosch Hand Mixer - Black
Bosch MFQ2420BGB Hand Mixer with 4 Accessories - Black
400 Watt power output

4 accessories included

4 speed settings to choose from

Turbo function helps reach the ideal consistency

Components are dishwasher safe for easy cleaning
So far only used it once. Very light, hope it lasts as I make lots of cakes.
very good mixer time will tell if it lasts bosch has gone down the cheap route in quality
Overall it is a major improvement over my 20+ year old kenwood mixer but one of the whisks I received was bent out of shape which caused vibration when the mixer was turned on. After a bit of judicious bending most of this vibration has gone and after reading other reviews I don't think I'm the only one to have suffered this. Time will tell I suppose but it's not a problem I ever suffered with on my old Kenwood. Other than that's its very quiet and light and does the job.
very lightweight and quiet during work. The speed is large range from the first gear where it turns slowly to the fifth where it is fast enough to whip foam from egg whites in a minute. Also the impulse function is very helpful. To sum up, it is worth paying a few pounds more for this well-looking mixer. And as always, the purchase process and very positive delivery. Thank you AO.
I had decided I wanted to try my hand at cake baking. Hard work with a hand held mixer so I thought I'd treat myself. Having done my research as to what was a good one I decided to go for this Bosch. Straight out the box I was already knowing I was on a winner. It's light, easy to get the mixers in and out. It has the dough and cake mixes and has a good enough length of chord to get to where I needed in the kitchen. About 1.4 meters. An added factor is that it can stand up on its back whilst you busy with placing other ingredients in the bowl. I made my first ever buttercream last night. Wow did it cream that batter perfectly. Yes I can highly recommend this Bosch mixer it truly is well worth the price. The motor is a good strong 400w and is ample for the casual cake baker. What's more to say other than I have nicknamed it mixerlicious after my 1st guinea pig on my cake tasting comment. "Delicious!" "Oh!" I said only because of Mixerlicious. After all my research on this item the proof is in the cake... Hahaha. Put it in you basket I can guarantee you won't be sorry.
Although this item was more costly that I originally wanted to spend, so far it's proved to be excellent. Very quiet and nice and lightweight. It has various speed settings and is easy to use. An added bonus is that the beaters will go in the dishwasher, unlike my last mixer. Fantastic service from ao.com, delivery smooth and efficient. Will use again.
Works really well , quiet machine , can take a couple of goes to get right attachment in the right hole , but great replacement for my old one
To my disappointment on unwrapping this mixer my first impression was that it doesn't seem very robust, compared to my previous one. I have only used it once, since it is a recent purchase and it did the job very well, but I am still not confident that it will last long. The machine is very lightweight, which is actually one of the reasons I purchased it, as I have arthritis, but the beaters don't seem very strong. Only time will tell how good it really is and I am hoping to be pleasantly surprised, as Bosch have a good reputation for building good strong machines. .