Customer Reviews — Bosch MaxoMixx MS8CM6160G Hand Blender with 5 Accessories - Black / Stainless Steel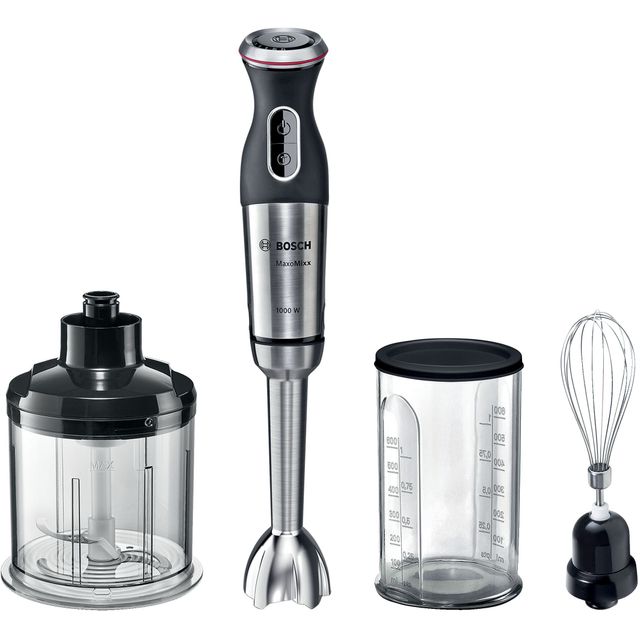 Customer Reviews — Bosch MaxoMixx MS8CM6160G Hand Blender with 5 Accessories - Black / Stainless Steel
Bosch MaxoMixx MS8CM6160G Hand Blender with 5 Accessories - Black / Stainless Steel
600ml jug capacity

1000 Watt power output

Innovative blade design blends quickly and evenly

12 speed settings to choose from

2 year manufacturer warranty for peace of mind
Brilliant product so far . It sturdy and solid .
I'd burnt out the last blender I had, I have a habit of doing that! This seemed by the description to fit the bill for a more sturdy replacement. I've not had it long, But it's in use daily and the construction is a lot more sturdy and has a far more powerful motor. Good blender.
really very good product, very handy and convenient to use. I used a kenwood blender before and I think this one is a lot nicer
Bosch MaxoMixx Hand Blender
An impressive piece of kit. We did wonder if the blender container would be as stable having a rubberised ring on its base as our previous unit (which was of lower power and the blender container had four rubber suction feet) but were pleasantly surprised. As the blender power unit itself is quite beefy, when placed on top of the container it all sits very stably and didn't slip around at all. Having a variable speed adjustment , rather than just 'high/low' speed settings is great. The measuring container is very useful and as it has nice and clear measurements we also use that with other machines that need accurate measures, e.g. our bread maker. We haven't yet used the whisk attachment but it appears to be well made and we are sure it will be put to good use at a future date. We would have no hesitation in recommending this excellent product.
Amazing blender, I love it .
Broke in a few months, bad customer support
I purchased the appliance in November and it worked well for a few months, until the pin of the blender mug broke off under normal use (I was blending garlic and onions). The mug became unusable as it doesn't hold the blade in place and it left a small hole in the middle. While I was surprised that it happened, I believed the Bosch customer service would be able to provide a sensible resolution, such as simply sending me a replacement mug. That wasn't the case. I had to endure 20 minutes or so waiting to be able to talk to an advisor, who promised me that a replacement mug would be send to me free of charge, but the call got disconnected while she tried to patch me through the spares department. I called again, waited another 15 minutes or so, and the next advisor told me that they actually wouldn't send any replacement and that instead I have to send the entire appliance (every single piece of it) via post for them to look at it. I have no idea how long this is going to take and have absolutely no clue why I have to send the entire appliance since only the mug is broken. Additionally, she insists that I send a receipt, which I don't have since I bought it online, even having registered the appliance with Bosch on the day it arrived. I will have to send the order confirmation e-mail instead. At this stage I have no clue if my problem is going to be solved. I'm disappointed with the product, but even more with the customer service. If I receive a better resolution to my issue I may consider buying a Bosch product in the future, but certainly not under the current circumstances. This is an expensive product for a blender and the minimum I expected is that either the product worked well for more than a few months, or that I would have adequate customer support. I have the reference number for the contact with customer support, if of interest.
Brilliant! Powerful and practical, easy to use and to wash
So far so good. Love that it is made of stainless steel rather than plastic like my old one. It is easy to clean and doesn't get permanently stained like my plastic one did.