Customer Reviews — Call of Duty: Modern Warfare for PlayStation 4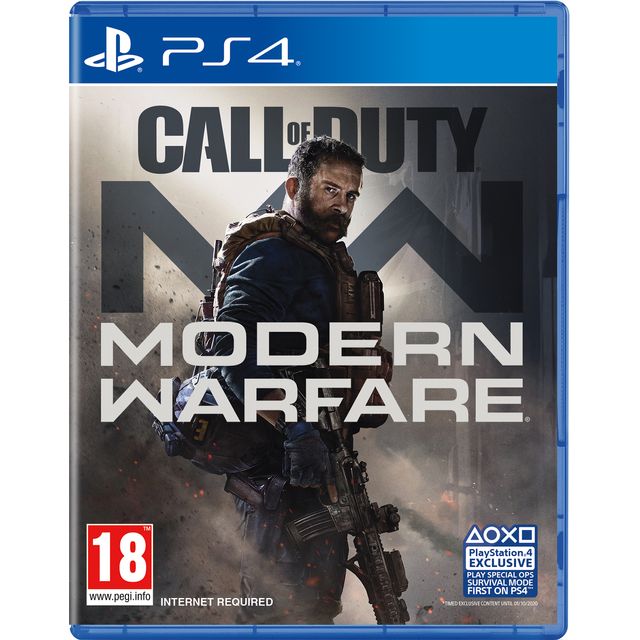 Customer Reviews — Call of Duty: Modern Warfare for PlayStation 4
Call of Duty: Modern Warfare for PlayStation 4
Adrenaline-pumping shooter game

For ages 18+ so it's not suitable for children

Single player and multiplayer game modes

PlayStation Plus subscription required to play online

Released on 25th October 2019
The kid loves it haven't seen him since he got it lol
Great gift for my brother
I gave this to my younger brother for his birthday last week and he has been playing it non-stop! I just wish there was a way for us to play multiplayer on one device.
Ordered it before and returned it before lockdown and realised I miss COD. fast next day delivery and cures the boredom
Great game and great service from ao.com
Fantastic!!
Great to have the disc shipped to your door next day. I'll hold on to a small bit of resale value - plus to download and install COD takes nearly as long as next day delivery - even on 50M/bit internet.
Super fast delivery for cheap and the PlayStation is perfect!
Worth ordering CoD with your chips on this occassion
My first delve into FPS games. Initially there was a lot to take in with the variety of battlegrounds on offer, but luckily I was playing with friends and soon found some great co-ops and multiplayer maps to explore. Only fault are the little simple issues - such as inviting people to parties - sometimes it works sometimes it requires you to restart the game...