Customer Reviews — Bosch Serie 4 59cm Induction Hob - Black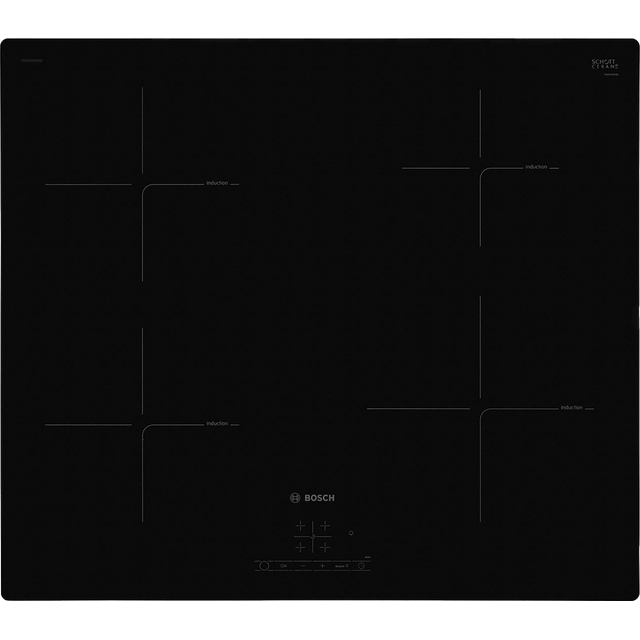 Customer Reviews — Bosch Serie 4 59cm Induction Hob - Black
Bosch Serie 4 PUE611BF1B 59cm Induction Hob - Black
4 Induction zones, for safe responsive cooking

Hob heats your pans and not the surface to save energy

Boost power when you need an intense blast of heat

Easy-to-use touch controls

Dimensions (cm) - H5.1 x W59.2 x D52.2 - Learn more
Cannot find fault in this hob. Really easy to use. Fast. Easy to clean
I purchased the induction hob as part of my new kitchen and to say I love it is an understatement. Looks - really sleek and contemporary. Only problem is that the controls are a little difficult to see. Usual Bosch quality (I am a bit of a fan). Heats the pan really quickly and is as controllable as gas. Does 'hum' when heating up, It really is not that bad. One tip, buy ferrous proper pans to get the best out of the hob.
Noisy fans and alerts, fussy about pans, "off" does not mean off, deep so watch worktop thinkness
Unfortunately this is the only Bosch product we've ever regretted buying. It looks gorgeous, and is easy to clean. It heats the pans in a snippet, cools down fast, but a square frying pan which would fry sausages to the corners on our previous hob does not do so even on the largest cooking area (if all you have are round pots/pans then you won't have this problem). Now, problems: it is very noisy: the fan sometimes almost sounds like a drone is taking off in the kitchen. Whenever you use the controls it beeps, and the beeps are very loud and annoying. The same with alerts/warnings: the beeps are very loud and very annoying. And, "off" does not mean it's turned off, as in "unless I turn you on, don't do anything!". You would expect to be able to put something on top of it, but you can't. A spoon anywhere on the control area wakes it up, and it beeps loudly, and constantly. Brush the edge of a towel across it if you take something out of the oven next to it and it wakes up, with a loud beep. Heaven forbid trying to use it as an extended part of your work area when it's off, no way, but maybe from a safety point of view it's brilliant (just be aware of it before you buy it). Installation is easy, it arrived with a 13amp plug. But be aware that it's around 50mm thick and needs at least 65mm to be installed (more if you have an oven under it) so if you have a standard 40mm worktop check that you actually have space for it. As noted it's fussy about your pans, but that's a general induction hob issue, if you have aluminium ones for example they won't work, But there's a program to test your pans to see how suitable they are, which would be a good idea to do when you get the hob, or whenever you buy a new pan (in case you have to take the new pan back...)
Spent more than I wanted to but do not regret it now. After a le creuset accident broke my old hob we discussed an upgrade. WOW speed unbelievable. It boils water faster than a kettle. It is as controllable as gas, yet the glass is still not hot. Food doesn't burn on and can be wiped away easily. No more scrubbing off spills. With this speed it should use less power over time. Really pleased
first time using induction hob
This is the first time I have used induction hob. It is amazing how quick heats up everything. Need to be careful as you do not need high heating to cook (like on a ceramic), so careful not to burn. It is great, the fact that food spillage on the surface does not burn! By accident spilt some milk out of a saucepan while boiling and it stayed liquid. Just a simple swipe to clean with a kitchen cloth!
Changed from gas to this induction hob, should have done so years ago. Most impressed. Took time reading the instruction booklet and all works wonderfully. Changed the safety lock to automatic as do have grandchildren visit. Is the best setting in my view as you can place things on the hob without worrying about whether it will switch on automatically. Very quiet in operation, heats pans very quickly.
This hob is in my view great, and looks great in my kitchen, it took a day or two to get used to the hob as I've never used an induction hob before, you just take the pan off and it shuts down by itself, it much faster than my old hob, so easy to install it has a 3 pin plug and the cleaning is just a wipe over all in all I'm delighted with it .
Plug in and go, no need for hard wiring. So easy to clean. Heats very quickly