Customer Reviews — Bosch Serie 4 59cm Induction Hob - Black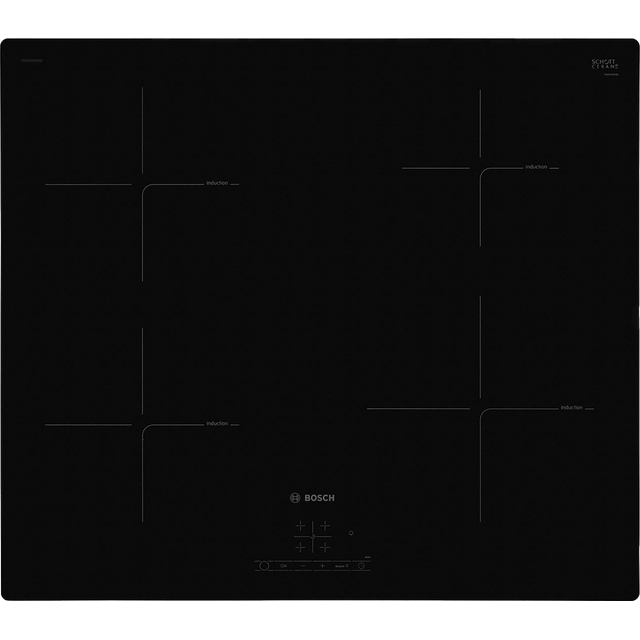 Customer Reviews — Bosch Serie 4 59cm Induction Hob - Black
Bosch Serie 4 PUE611BF1B 59cm Induction Hob - Black
4 Induction zones, for safe responsive cooking

Hob heats your pans and not the surface to save energy

Boost power when you need an intense blast of heat

Easy-to-use touch controls

Dimensions (cm) - H5.1 x W59.2 x D52.2 - Learn more
Great looking and easy to use item
Great induction job from Bosch
Good price. Easy installation. Very efficient and quick.
Excellent Hob at a really good price. Very easy to use and cooks beautifully, wish I had changed it out for my old gas hob years ago. Its so easy to clean now. With it only needing a 13 amp supply it simplified the electrics as all I needed was a socket to plug into. Make sure you have the right saucepans though as you need ones that work with an induction hob.
Brilliant product, so easy to install and use. Very happy
Good replacement hob for an outdated gas one.
We purchased this induction hob to replace an ageing gas hob. It was a very simple replacement as it fitted the existing cutout in the worktop very well. It was a simple connection to an existing 13 amp socket.The hob is very stylish and works extremely well. We were very surprised how easy it is to control the heat and how quickly it reacts to changes. Cleaning is a breeze as any spills do not burn onto the ceramic surface.
2 good sized ovens with additional shelves. Really pleased with product so far. Was easy to install.
A stylish, easy to install, plug and play hob
We recently had our kitchen worktops replaced and decided to take the opportunity to ditch our old gas hob in favour of a new induction hob.. this is what we settled upon based on other reviews. One of the main factors for choosing this hob was the power supply requirements. This has a 13A plug so can be plugged in to any standard mains socket and since running a dedicated 32A feed (required for other types of hob) wasn't an option for us this was very important. I was delighted with how easy it was to fit too... the kitchen fitters had been and gone, leaving the necessary "standard sized" cut out for the hob in the worktop. When it was delivered it was a simple case of unpacking it, feeding the cable through a pre-drilled hole in the adjoining cupboard which had the mains socket installed in it, and dropping the hob into the slot. The spring loaded retaining clips ensured it fitted in firm and neat. Literally a 2 minute job, no hassles whatsoever and no special skills required. The hob itself operates exactly as I expected it to. Although being new to induction hobs it takes a little getting used to some of the finer details compared to the old gas hob i.e. finding the correct/best power setting for different things etc The boost function is impressive, even matching our pretty quick kettle for boiling from cold. Main gripe is that it's a fingerprint magnet and keeping it nice and shiny is a big ask. We ended up buying some nice looking black glass chopping board covers (2 pieces) that match the size of the hob perfectly and allow the area to be used for other things when the hob isn't being used. Highly recommended.
Delivered on time and safely. Good looking hob that I hope will give years of good service.