Customer Reviews — Hisense American Fridge Freezer - Stainless Steel Effect - A+ Rated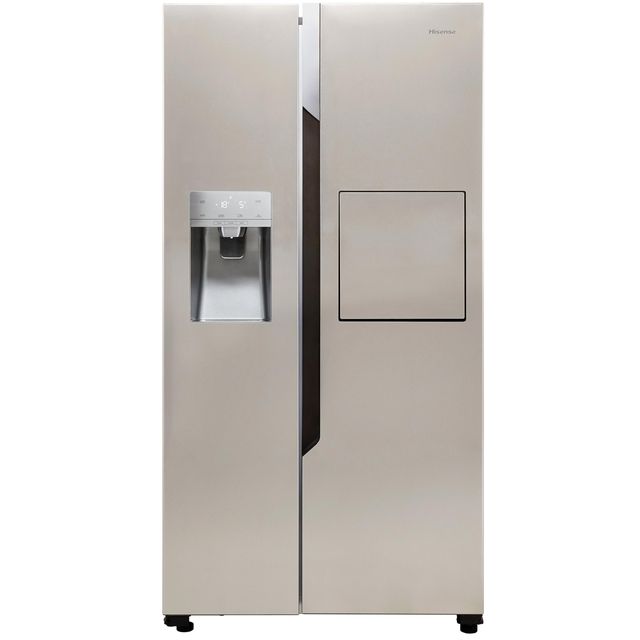 Customer Reviews — Hisense American Fridge Freezer - Stainless Steel Effect - A+ Rated
Hisense RS694N4BC1 American Fridge Freezer - Stainless Steel Effect - A+ Rated
532 litre capacity - holds 29 bags of food shopping

Clever tech stops ice build-ups in the fridge & freezer

Home bar door gives easy access to cold drinks

Water and ice dispenser - no plumbing required

Standard width - 91cm
Great fridge freezer, the compartment on the front works like as dream, couldn't be happier with it.
Fantastic appliance- perfect in every way.
Fantastic fridge freezer, lots of room, great layout. Fab ice machine does both cubes & crushed. Water nice & cold- runs a little slow but I think that's a positive really. You don't want it gushing out especially if a child's making themselves drink. 5 out of 5 for me. Excellent service from a.o too the delivery drivers went that extra mile to make sure everything was perfect. Very professional, well mannered polite and did a great job.
Super size and looks excellent in my utility room Freezer space is smaller than previous one but as I have another outside this is not a problem Colour is good and we love the wine rack and opening door I am so happy with my purchase and wish I had bought it earlier
We were looking for a fridge freezer with a non-plumbed ice dispenser, and this looked perfect. I was worried the small bar door would be a bit gimmicky, but it's actually really handy for just getting the milk or butter. We've had no problems with it at all, and plenty of space inside both the fridge and freezer.
Ice maker poor but looks fab
Cant get the ice maker to work very hard to get out once you put it in you can stand all day wait to fill a glass of cold water but looks wonderful low noise good for the price
Looks great, love the ice machine.
I was persuaded to go for this model as my partner wanted a fridge with ice machine. I was worried that it might be gimmick, but it's easy to refill and has been great this summer. The bar door is also a nice touch, but you do have to press hard - first world problem, I know. The fridge freezer itself is very quiet, other than when the ice forms and drops into the dispenser, which makes my dogs jump! I think I need to tinker with the freezer settings too, as a thin layer of frost appeared initially, but seems to have diminished as we have put food in there to freeze. I am surprised that the stainless steel front doesn't show fingerprints, which is a big plus. Overall, very happy with the purchase and delivery was easy and smooth. Our drivers gave us clear instructions for the unboxing and the castors on the bottom meant it was easy to slide into place.
Great fridge but ice dispenser broken after 1 week
As title. Love the size and functionality of the fridge. However the ice dispenser is driven by a plastic drive ring which lasted only 1 week. Still waiting for the insurance/warranty to sort out the repair after 3 weeks. Not sure I'd recommend due to this failure. Will update after repair and hopefully improved life of the ice dispenser.
Great product Ice dispenser is a godsend
This fridge freezer is a great fridge especially as an upgrade from a standard one. The Crushed Ice is the best feature to me!