Customer Reviews — Sage The Oracle Touch SES990BSS Bean to Cup Coffee Machine - Stainless Steel / Chrome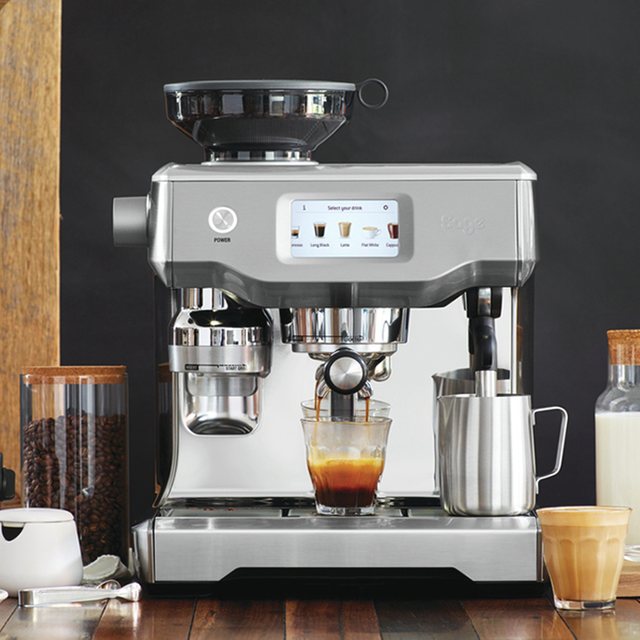 Customer Reviews — Sage The Oracle Touch SES990BSS Bean to Cup Coffee Machine - Stainless Steel / Chrome
Sage The Oracle Touch SES990BSS Bean to Cup Coffee Machine - Stainless Steel / Chrome
14 pre-programmed coffees at the touch of a button

Coffee beans are ground, dosed and tamped automatically

Adjust the coffee strength to make the perfect cup

Memory function remembers your favourite drinks

Swipe the touchscreen to select which coffee you'd like
Absolutely brilliant. Vast upgrade from a premium Sage Nespresso machine and the touch screen is worth the extra. All the convenience of a super-automatic bean-to-cup machine without the hassle and uncertainty of a die-hard hobbyist setup. As someone new to the world of home espresso I wanted to achieve barista-quality coffee at home without having to grow a beard or give my wife an excuse never to make me a coffee again; I also didn't want to feel limited by the fact that this machine takes away some of the variables (e.g. dose size, tamp pressure or pre-infusion temperature) in order to simplify what is a very complex artisanal process. After a huge amount of research I pulled the trigger on this machine, and I'm very glad I did. Even though it was released a few years ago now, it is still worth every penny. The touch screen not at all gimmicky as I had suspected. The dual boiler and the temperature control all helps to keep things consistent, and as my interest in coffee grows I feel that there is plenty for me to play with if I really wanted to tamp my own coffee in the future or play with different extraction methods, without risking a disastrous shot in the small hours of the morning. It's a bit less convenient than a push-button machine and I spend more time cleaning it than I did my previous capsule machine, but that befits the investment in the machine and the quality of the coffee it produces. It makes me think more about my coffee but doesn't demand that I understand and adjust every little variable. Overall an absolutely brilliant piece of engineering, a wonderful investment in breathtaking high quality coffee and a brilliant gateway into a new hobby - if you want it to be. The closest alternative (other than the non-touch alternative) that I considered was a dual boiler machine with a separate grinder, manual tamp setup and a manual milk frother, but you would lose a great deal of convenience and neatness provided by this single integrated machine with automatic tamping and frothing for what I suggest would be only a marginal increase in control of the various variables and a much greater likelihood of pulling inconsistent shots. That might be good for a serious hobbyist or someone with professional training, but this machine is absolutely perfect for me as someone who wants to achieve consistently great coffee without needing to learn how to become a professional barista.
Brilliant in every way definitely get what you invest in quality professional and tastes delicious easy to use and maintain.
It is brilliant, easy to use and makes coffee shop coffee.
I love it! easy to use and I love the coffee offer so we can try different flavors. The advantage to adjust the options to do more personalize I like it
Absolutely fantastic so so nice looks the part it's so well made and makes stunning coffee highly recommend
Excellent, if a little expensive
This may be a little on the expensive side, but it produces coffee that is at least as good as from a coffee shop. It is easy to use, and more importantly, easy to clean. Since I use it every day, I am very happy with it. My wife also enjoys the drinks.
Road to coffee perfection
Great, communication and quick service from AO. So far so good with the coffee machine. Looks great & lovely coffee and milk frothing. Be prepared for a big, heavy & noisy unit. Even though it's as automatic as this type of machine gets, still a lot of tweaking and learning to do. Time will tell if the eye watering premium over other models is worth it. Think the leaning process is going to be fun and caffeine heavy!