Customer Reviews — Tower Halogen Low Fat T14001 Fryer - Black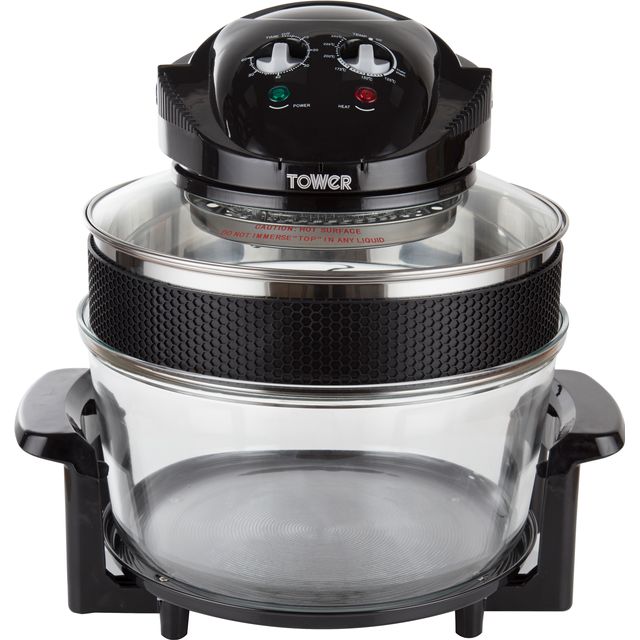 Customer Reviews — Tower Halogen Low Fat T14001 Fryer - Black
Tower Halogen Low Fat T14001 Fryer - Black
Has a 12L capacity and comes with a 5L extension ring

Minute minder alerts you when your food is ready

Easily adjust the temperature to suit your meal

Transparent window lets you monitor your food

Components are dishwasher safe for easy cleaning
Great product.. Easy to purchase online.. And fast delivery
The item is great for the price, however the dimensions of the product is quite big compared to what you would expect
Love it,it's huge and for the price is second to none
Love it.. cooks in half the time.
Love it .. cooks in half the time. chicken meat tender & moist and the skin lovely & crispy.. simple to use, with a timer and temperature control, just lift the handle to stop the cooking. you can see the food cook, you can even use tin foil to slow down the browning, but tip, don't just place a single sheet on top as it will rise up, i tuck mine under the meat to hold it in place then remove it after to brown and crisp up.. Very bright light goes on and off, easy to clean too. Comes with 2 wire racks 2 wire stands, tongs and spray bottle for oil. and extension ring. I wouldn't be without it. every kitchen should have one ..
This is excellent in every way. Good size for cooking most food in. Easy to keep clean and we don't use the main oven as much. This is our second fryer when the first one failed we didn't hesitate in purchasing another.
Excellent, easy and healthy.
Had one of these before and replaced it without any hesitation- they are versatile, quick and clean to use. Definitely recommended!
I use this on my catering trailer, it's perfect for cooking off a load of chips and pizza at the same time, it takes about two thirds of the time to cook them. The light that comes off the bulb whilst cooking is actually quite nice too. The silver protector piece doubles up, you can use it to extend the product. You're not limited to what you can cook in this either, you can bake cakes and pretty much anything at all!
I have used your service since finding it by accident.. There is no better service.. Are you kidding me next day delivery free.. Cheaper product and.. Big And.. 3 yr guaranteed replacement if it gets faulty.. (that's without the kids thinking its a toy..) seriously the best for all my needs.. Massive ty my sausage's taste so much better.. Ha ha.. Cooking with a halogen is healthy in fact there is no better way.. and you use less power.. So save money its a no boner.. SUPERBULOUS.. Many thanx guys.. Fridge is still going strong after two plus yrs.. Incidently I showed my friends about your service and product.. I would send a pic if I could.. Ken Wolf.