Customer Reviews — Tower Vortx 5-in-1 with Rotisserie T17038 Air Fryer - Black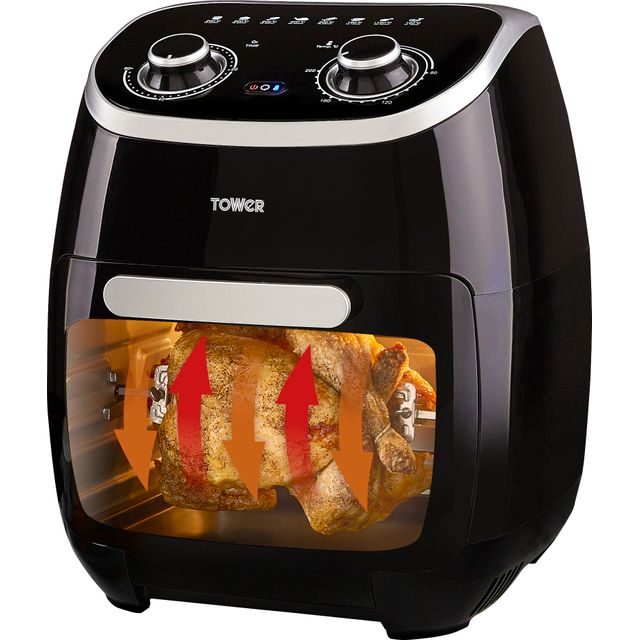 Customer Reviews — Tower Vortx 5-in-1 with Rotisserie T17038 Air Fryer - Black
Tower Vortx 5-in-1 with Rotisserie T17038 Air Fryer - Black
It has a generous 3.2kg food capacity

Set the timer for perfectly cooked food

Auto shut off safety feature gives you peace of mind

Easily adjust the temperature to suit your meal

2 year manufacturer warranty for peace of mind
Good but expensive to run
How did we manage before?
How did we manage without it? Have used Tower air fryers before but this does the trick. More space for more than one thing at a time, and allows bigger sized pieces of food, like ready battered or breadcrumbed fish etc.. We are enjoying getting used to the different uses. We have hardly used the gas cooker since the air fryer arrived! Thoroughly recommend it. There are two of us, but it would also be useful for bigger families, lthough possibly not room for a full dinner.
Brilliant product! This fryer cooks so fast and the food is amazing, a simple cheap pizza ends up with a soft crust with a very slight crisp to the very outside, just like an expensive one. Brilliant.
Great oven used everyday not had main oven on since receiving this fabulous product. Cooked a small chicken to perfection . Easy to clean
excelent product saves enegy ,time and reduces fat needed to cook food tastes better
mr Christopher walker walker
Used for the first time today cooking salmon, potatoes and vegetables for two. So simple to use, the meal was cooked in 20 mins and flavours were great, especially the salmon. The fryer was quiet when in use, cooking smells were minimal and cleaning shelves and oven after use was quick and easy. Nothing to dislike.
RUBBISH CUSTOMER SERVICE FOR FAULTY GOODS
Broke after 6 month, very poor build quaility, Tower not Interested sid you own te warrenty, you ask me to cut the plug of and send photos to prove and you would send a new one still waiting 1 month later. Your ref AOL209451531 in case anyone from AO reads these reviews.
Love this used it everyday not used my main oven since getting this.