Customer Reviews — Tower Vortx 5-in-1 with Rotisserie T17038 Air Fryer - Black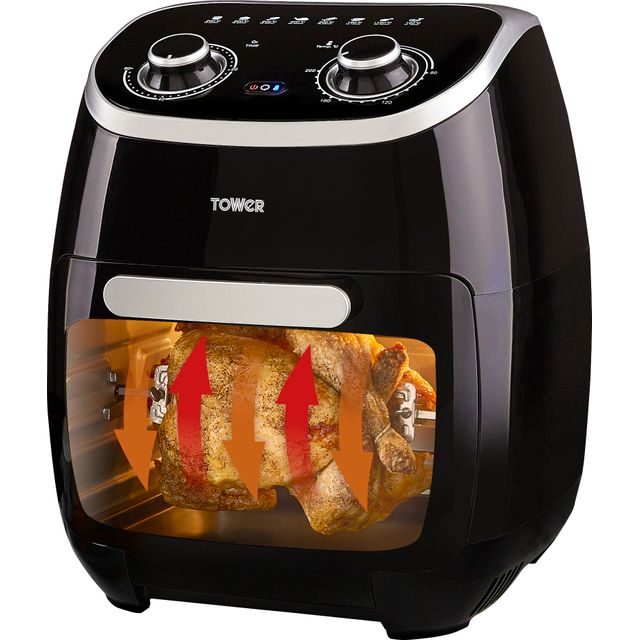 Customer Reviews — Tower Vortx 5-in-1 with Rotisserie T17038 Air Fryer - Black
Tower Vortx 5-in-1 with Rotisserie T17038 Air Fryer - Black
It has a generous 3.2kg food capacity

Set the timer for perfectly cooked food

Auto shut off safety feature gives you peace of mind

Easily adjust the temperature to suit your meal

2 year manufacturer warranty for peace of mind
Fantastic cooked chicken and chips!! Great delivery experience
I have a air fryer but this is brilliant I done a roast on the rotisserie and it came out moist oven chips are so crispy in this as well burger came out moist and juicy and it so easy to clean up
Unbelievable product highly recommended
Fantastic product rotisserie is unbelievable juicey chicken in half the time Also the size means that you can put more in
Wonderful purchase. Wouldn't be without it.
Brilliant not used my oven since I purchased the Air Fryer I've done chicken and bacon joint on the rotisserie, they cooked beautifully. Would highly recommend. Also cheaper than using a conventional oven
So much better then I expected!!
This is Amazing. Did a lot of research into various air fryers and choose this based on the reviews. I am not disappointed this actually cooks beautifully and the flavours are devine. No more dried out chicken or soggy chips, it's like a meal out every time, and with no real prep either. The only advice I will give, which I read before is to soak any chips weather they are cut fresh or are frozen pre packaged, in water for around 20 minutes then pat dry.. You will get the Best chips ever!! This I would say is ideal for 2 people not more then that, so great as a moving in gift or wedding present.
Looks massive in box once you open it not very spacious at all and no basket to put chips or that in defo not worth the money!
It's perfect for my dad. Doesn't need to use his large gas oven now just to cook a small meal for one. Several trays so can cook more than one thing at a time. Brilliant little oven, with timer.
Chicken legs was perfectly cooked and skin was lovely and crispy yum yum