Customer Reviews — Tower Cord & Cordless T22008 2400 Watt Iron -Purple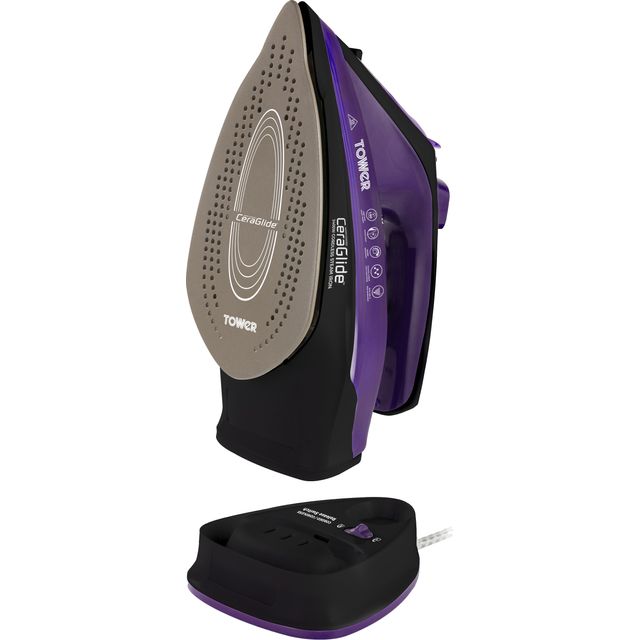 Customer Reviews — Tower Cord & Cordless T22008 2400 Watt Iron -Purple
Tower Cord & Cordless T22008 2400 Watt Iron -Purple
Ceramic soleplate glides easily over all fabrics

Continuous steam output of 120 grams per minute

Cordless design for extra manoeuverability

Heats up in just 30 seconds

Special self-clean function keeps the iron at its best
Only used a few times but so far so good, very happy with it.
The iron works well. It heats up quite quickly. I use it for pressing sewing projects. It being cordless, makes it easier. I bought it based on its reviews
Excellent iron use either attached or separately. Not too heavy which is a bonus ,definitely would recommend ??
I was a bit apprehensive about buying a cordless iron at first just in case we had to spend more time charging than ironing. However, some very clever person designed an iron which can be used as cordless or corded which works brilliantly. It means you can iron cordless on the likes of shirts but when you are ironing heavier items like jeans etc you can add the base. At this price it's a steal. Tower have been around a long time and are major players and not to be underestimated. I highly recommend this iron and I'm a bloke!!!! You cannot possibly find anything wrong with this appliance at this price.
I like the easy way i can use ths iron. It is light in weight and easy to hold when it is off its charger and it is just what I need for my art practice as I have to press small areas of my work frequently. So far I have only praise for the design which allows me to have a wire free appliance
It's so so great iron ?????? I'm very happy with this product and really can just recommend ?? Thank you
Absolutely fabulous for the price! Lovely colour, light to handle good water capacity, easy clean, great that it can be used as a cordless iron if wanted, but it is so light and has a good length of lead I use it like a regular corded iron. Very pleased with my purchase.
Not bad! Worth it to be honest
Reviews put me off regarding cordless use and yes i do agree, it does fall off from the ironing board so i keep my iron corded. I have had heavier irons so i do find its really light corded and i wouldn't have minded it being heavier. Its very smooth!!! Makes it easier to iron. The steam shot is good and the continuous steam isn't bad either although i would have preferred higher output. It does need refilling frequently so thats a headache also sometimes its hard to see water level as its a dark purple and you cant see properly. For the price its worth it I've paid more for other brands and Maybe less steam output so in that sense im happy. My first time buying tower and first time using ao so im satisfied so far