Customer Reviews — Philips TAB8405/10 Bluetooth 2.1 Soundbar - Black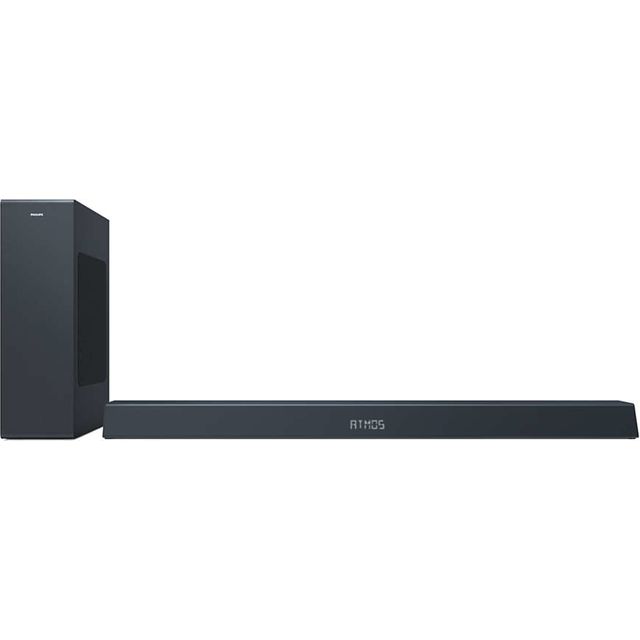 Customer Reviews — Philips TAB8405/10 Bluetooth 2.1 Soundbar - Black
Philips TAB8405/10 Bluetooth 2.1 Soundbar - Black
200 Watts of audio power

2 built-in speakers & wireless subwoofer for epic sound

Bluetooth enabled for wireless connectivity

Dolby Atmos® delivers incredible surround sound

Apple AirPlay-compatible
Perfect sound and easy install
Great 2.1 Sound Bar and Subwoofer.
Great looking but unobtrusive 2.1 sound bar and subwoofer and oh so very much better than the TV's built in speakers. Feels very well made and was easy to connect to my Panasonic TV using the HDMI(ARC). The remote is easy to use and I also use the PS Fine Tune App on my phone. Turns on and off with the TV and the TV remote controls the volume. During set up, I did have to put the sound bar close to my router to connect to the home Wi-Fi but, to be fair, it does tell you this in the instructions. At max volume the sound remains undistorted but it won't make your windows shake. Plenty loud enough for a great movie experience but maybe not quite the punch for a loud party. Very easy to change between the pre-set sound modes. The base from the subwoofer is well balanced but you can make it more pronounced by turning the subwoofer and the base settings to maximum. At night, to avoid disturbing the family with too much base, I use the "voice" sound pre-set and turn the sub woofer to minimum. I am very pleased with this purchase.
Easy to use and with decent sound quality
Easy to set up and start using quickly. The sound quality is OK: not as good as more expensive systems but not bad for a small room and at higher volumes the sound quality does improve. The soundbar doesn't seem to store EQ bass and treble settings when switching modes or after power cycles, which is a bit frustrating. Generally a decent product, but if you're looking for high quality audio, it might be worth looking at other systems.
Excellent Sound Bar and Subwoofer. Easy to set up. Great volume,especially when watching a movie. This is the best Sound bar,compared to the ones I have had in the past. Would recommend.
Really increases the sound quality out of the tv! Highly recommend for football and movies.
Great connectivity but not surround sound
Love it! I think it's a stretch to call it surround sound as it's only 2.1 but in terms of connectivity this is awesome, I've of the few soundbars I could find with aux input! Plus it has wifi for spotify which is a big bonus.
Not suitable for hearing people.
This is not what i expected from Philips, the wireless subwoofer keeps on going off, unless it's right next to the soundbar, and the sync is not in line with the talking, bit annoying it's like watching a bubbed movie. I paid over the top for this device, it should be free with cornflakes.
I have had a few cheap and nasty sound bars in my time so since I have used AO before I checked the site for Sound bars and found this one so I googled it and it's new on the market. So I read up on it and it sounded good for what I needed and it works very well and it dose what it says it dose with ease if I had to recommend a sound bar I would definitely say this one .