Customer Reviews — Bosch DesignLine 4 Slice Toaster - Copper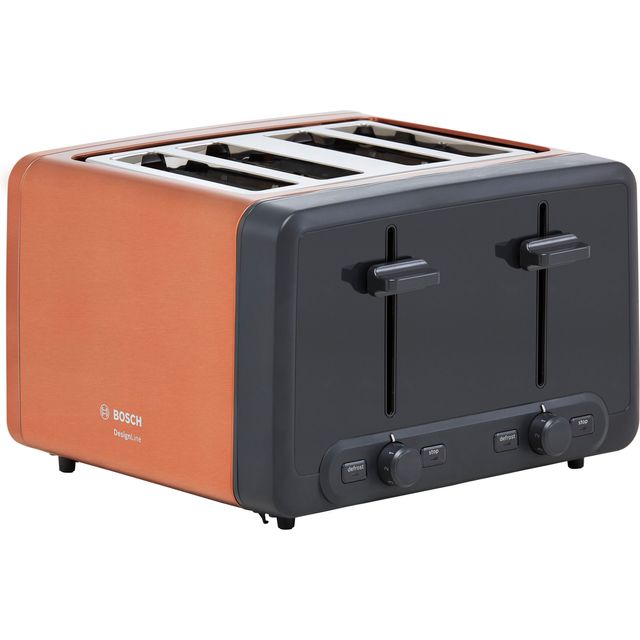 Customer Reviews — Bosch DesignLine 4 Slice Toaster - Copper
Bosch DesignLine TAT4P449GB 4 Slice Toaster - Copper
Toast 4 slices at once

High lift function makes it easy to remove your toast

Illuminated controls display the current function

Select your perfect setting for golden brown toast

Handy removable tray lets you dispose of crumbs easily
Great produce, all you expect from Bosch.
Mixed feelings about Bosch
Bought this as a set - Kettle and Toaster. The Kettle is fine, good looking and good pourer. Unfortunately, the matching toaster was faulty and had to be returned and replaced. TWICE. I now have a different make of Toaster, which unfortunately, does not match the kettle!!
4 slots is great, seems to toasts evenly so far
Great toaster, appears to be solidly made and takes a fairly tall slice of bread. Only time will tell if the cost is justified in longevity. Toasting is even across one side of the toast, but there is a slight difference between sides, with one side being a little darker than the other. Hence the four stars, rather than five. However, this seems true of all toasters, so not a deal breaker. Perhaps, one day, human ingenuity will find an answer to this problem.
Looks good. Well built Simple controls. As with most toasters we've had could have done with a couple of the slots being wider to take a bread bun, cake, or balm whatever you want to call it. Double crumb trays. Toast lifts high enough.
On first try the toaster didn't seem as strong on one side of a slot then the other. It also seems to have to be at the highest setting for a proper toast. I am not particularly impressed with the toaster for the price.
Does everything it says on the tin.