Customer Reviews — Bosch Styline 2 Slice Toaster - Black / Stainless Steel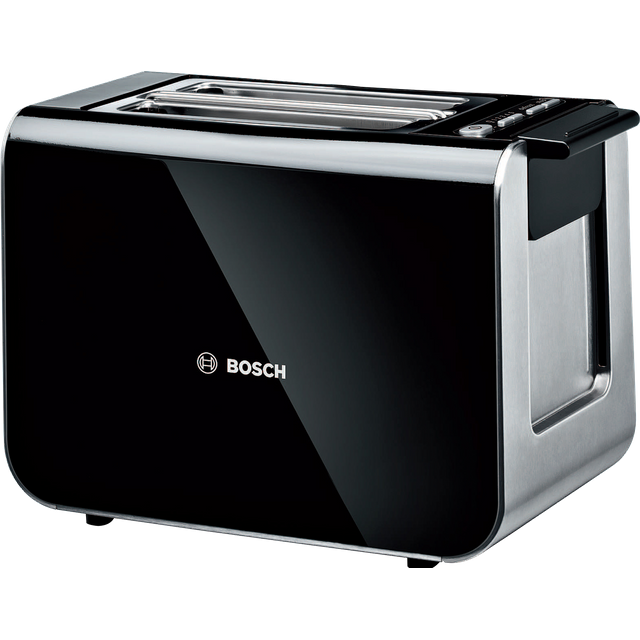 Customer Reviews — Bosch Styline 2 Slice Toaster - Black / Stainless Steel
Bosch Styline TAT8613GB 2 Slice Toaster - Black / Stainless Steel
Toast 2 slices at once

Adjusts the temperature inside for even toasting

Automatically centres bread for thorough results

Warming rack is perfect for warming buns

The sides of the toaster stay cooler for your safety
Brilliant toaster browns more evenly so much nicer worth every penny
evenly toasted toast what more can you ask for
Looks great, nice even toast. Also used it to warm bread buns.
Very pleased with the product. Easy to use and the breadcrumbs do not get stuck inside. I like the indicator showing the progress of toasting.
Hot Toast Heaven is back!
The best toaster ever with its unique heating element using lamps instead of the standard wired elements which is basically every other toaster on the market. The toaster even tastes better using this toaster. If you don't believe me go to a well known retailer and look at the array of brands and inside they are basically the same wired elements and even made in the same factory.
Excellent one . Simply in love with it . Looks great , toasts better .
A nice looking toaster that fits in perfectly with our style of kitchen. The new style elements toast evenly and the controls are accurate and easy to use. So far we're very impressed.
Best toaster I ever purchased!!
Amazing toaster and great store!! 100% recommended!