Customer Reviews — Bosch Sensixx EditionRosso TDA5070GB 3050 Watt Iron -Black / Red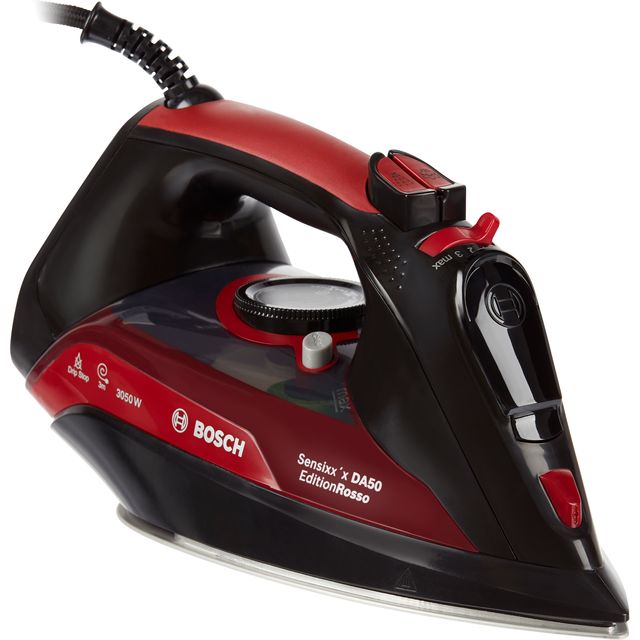 Customer Reviews — Bosch Sensixx EditionRosso TDA5070GB 3050 Watt Iron -Black / Red
Bosch Sensixx EditionRosso TDA5070GB 3050 Watt Iron -Black / Red
CeraniumGlissee soleplate for great steam distribution

Continuous steam output of 50 grams per minute

Clever design provides powerful steam distribution

Easily steam curtains and hanging garments

Clever technology prevents build-up of limescale
Good value for money as I couldn't find it cheaper anywhere else.
Glides effortlessly, strong sturdy appliance that produces good quality results
Good product - very sturdy but lightweight. Steam very powerful.
Only used a couple of times and seems efficient in doing the job. Handle is uncomfortable but hoping this will improve as I get used to it although rather heavy weight will stay the same! Opening for adding water pretty flimsy so will have to take care not to break. The flex is nice and long wjhich is helpful. Although I bought for a discounted price the rrp is totally unrealistic and too expensive.
I previously had a very old Bosch Iron which just wasn't ironing as well any more. I was always after another Bosch as their products are reliable. I saw this on sale and brought it immediately. It's a great iron, some say it's a bit on the heavy side but I think that adds to the effect of having greatly ironed laundry. I don't mind this at all! In my previous iron I couldn't see the water level, but in this one I can, and it's so simple to use. The self clean function, although I haven't used mine yet, is always a handy function to have. The colour is fab too! I'm so glad I got this iron!
Great price Great product
Great product, vast amounts of steam and has a weight that reduces the effort required to iron clothes.
Shh! Don't tell my husband
This is a great iron - a little heavier than my last one but the weight makes it feel like its doing a better job. (My previous iron was a well known brand and cost circa £80. Only lasted 3 years before completely stopped working) The adjustable steam works well - note turn steam to off position when filling with water. I tend to iron on a "need to wear" basis but recently had a backlog of 12 mens shirts - have to say normally a chore - but this iron glided through the cotton shirts with ease - cut through creases without repeated pressing. What a difference, really saves me time and effort. Also noticed a big difference when ironing bedding - I usually loose the will half way through a duvet cover but again because I am not repeatedly pressing, it is - dare I say it - a pleasure to iron. Shhh! don't tell my husband! Overall very pleased with product would definitely recommend. Bought this 1/2 price with ao. Although even full price is well worth the money.