Customer Reviews — Siemens EQ9 TI923309RW Bean to Cup Coffee Machine - Black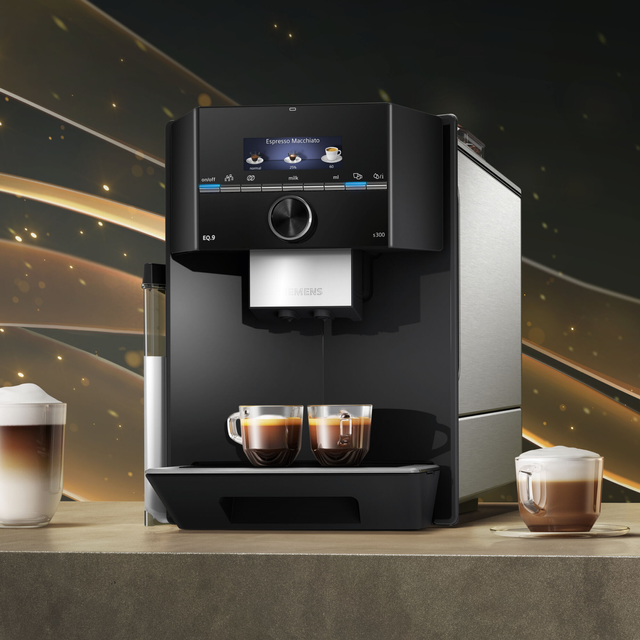 Customer Reviews — Siemens EQ9 TI923309RW Bean to Cup Coffee Machine - Black
Siemens EQ9 TI923309RW Bean to Cup Coffee Machine - Black
i-Aroma system delivers the best flavours to every cup

Makes two aromatic cups of coffee at the same time

Innovative colour display is super-easy to use

Milk container is removable for easy storage & cleaning

Cleaning function keeps your machine in great condition
Bean to cup coffee machine
Makes very good several types of coffee at a fantastic price
Siemens bean to cup coffee machine
Exceptional coffee machine,so simple to use and looks impressive
Very nice machine, works straight out of the box
Delivery Flawless, Coffee superb, service top draw. Enough Said! Karl
Really good machine. Recommended by a friend. Perhaps the instructions could be a bit clearer, but Sorted it out in the end. Still trying different settings to get our ultimate Latte
Perfect looking product with many obtions !! Preparing fir me, my family and friends amazing choices coffee. I need just press one button!!
I love this item, little bit expensive but i am happy now. Amazing servis to insure my item we had lough and very clearly explained to me obtions. Perfect , safe and quick delivery to my door!!! Massive Thank You!!!
It makes great coffee and its really good product to have.The coffee machine easy to use and to keep clean
Put simply, it just works brilliantly !
Top quality machine and dead easy to use. Had it for a week so far and I can't fault it, or the lovely cups of coffee that it produces. Yes, it is a more expensive machine than many, but the quality shows through and is well worth the investment