Customer Reviews — Siemens EQ.500 TQ505R09 Bean to Cup Coffee Machine - Black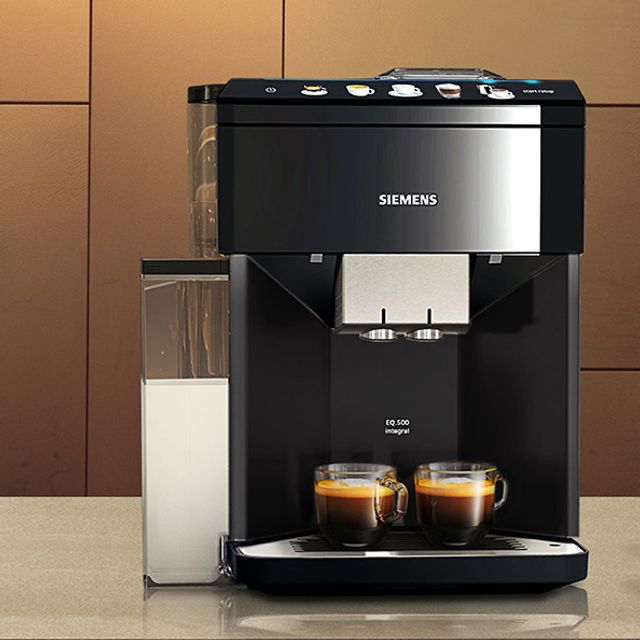 Customer Reviews — Siemens EQ.500 TQ505R09 Bean to Cup Coffee Machine - Black
Siemens EQ.500 TQ505R09 Bean to Cup Coffee Machine - Black
3 pre-programmed coffees at the touch of a button

Extra-strong coffee setting for rich, aromatic flavours

SensoFlow gives the perfect brewing temperature

Adjustable grinding - great-tasting, flavoursome coffee

Makes two aromatic cups of coffee at the same time
A straightforward machine, easy to use and producing a good range of coffees.
Nice coffee machine does what it says on the tin Coffee could be hotter and would be nice to do a plan large coffee. But going to save all the single pods I had with my old coffee machine
The coffee machine looks great and seems easy to set up and use. I haven't used it yet due to kitchen being renovated.
Great product - would have been nice to get the whole set
Really good coffee, a little slow but worth the wait. Frustrated that the box didn't include Brita filters as that was an extra spend on top of this. Would have been nice to have some descaler tablets in the box as well.
Coffee grinding part failed after 4 months
It is a lovely machine, has lots of different functions to make different types of coffee without a fuss. However, what was upsetting is to find out that the coffee machine broke down in less than 5 months. Apparently the coffee grinding part has failed. We've contacted AO and this has been a hideous process to get coffee machine for collection as we had to contact the manufacturer instead according to AO. We have no coffee machine for a month and still don't know when ours will be fixed. Siemens manufacturing customer services seems to not able to communicate with DPD for collection of our broken machine. Both of them are providing different pick up and box drop of delivery times that you end up not knowing what to expect and when to be at home. Surprised that in less than 5 months the grinder has failed to work. I wouldn't trust buying this product anymore.
Siemens EQ.500 coffee maker
The product is easy to use and understand, however we were surprised that a water purifier was not part of the equipment. It's a bit like, "batteries not included" without the warning until you open the box and go to make your first coffee Christmas morning. We were able to use the product without it, but would have thought the cost of this machine would have included such items. Other than that it's a great product.
EQ 500 is great coffee machine and exactly what I was expected. I am a coffee lover! There are good choice of coffee choice, great quality cup of coffee. It's do easy to look after machine and no need too much to clean.