Customer Reviews — Samsung UE55AU9000 55" Smart 4K Ultra HD TV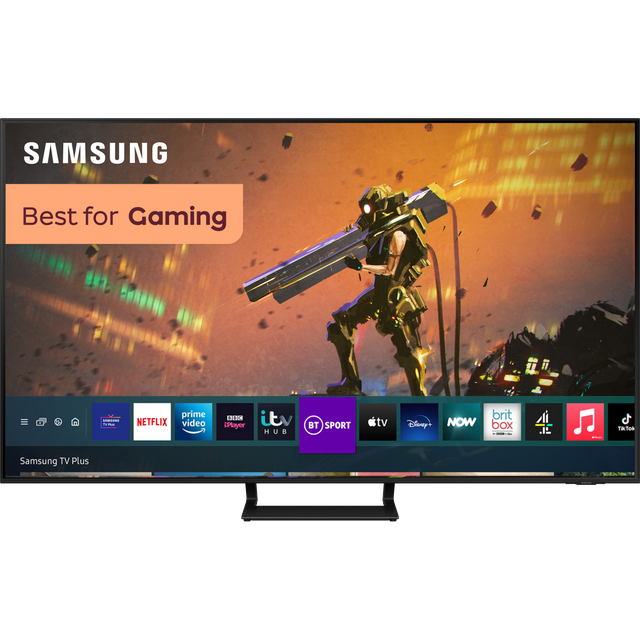 Customer Reviews — Samsung UE55AU9000 55" Smart 4K Ultra HD TV
Samsung UE55AU9000 55" Smart 4K Ultra HD TV
4K Ultra HD - Stunning sharpness, crystal clarity

Crystal Processor brings everything you watch up to 4K

Smart TV - catch up, movies & more

Clever surround sound tech follows the action on screen

Dynamic Crystal Colour offers true-to-life hues
Samsung build in app store can't install other apps that I want.
This is a great TV. Super sharp picture and I purchased the Samsung sound bar with it at a great price. Overall really pleased, easy to navigate and set up
Excellent picture, normal disappointing sound , but no probs when hooked up to soundbar
Brilliant graphics on screen , perfect for my home
The TV is exactly what we wanted. The picture is 10 times better than our other TV which in itself was a great TV. Can't recommend most strongly.
A great Television. I upgraded from my 50" Samsung, to this 55" model. The set up procedure was very easy and we were able to watch programs within half an hour or so. There was very little tweaking to be done the TV settings were generally good straight out of the box. The picture quality is first-rate. The sound quality is also rather good, though some reviewers criticised this point. I was going to buy a soundbar and no doubt this would enhance the sound quality, but for me the sound is as good as my last TV, so I am happy with it as it is. I found there are many more TV programs available through the Samsung app. as well as all the regular Freeview channels. There are two remote controls, the first is a traditional type with all the buttons, then there is a Smart remote with only a few buttons, but I haven't really tried this out so far. There are extensive menus to adjust the TV to suit all tastes, but I have not found that I have had to adjust anything really, though over time as I get used to the TV, maybe some features will enhance the viewing experience. There are two minor negative points; one is that there is no Teletext service, there is a button on the remote for it, but it comes up with unavailable. the second point is, that it would be nice to have a proper paper manual to look at rather than the in-built manual via the menus; but I realise the need for saving the worlds resources. I would definitely recommend this Television and I would buy it again.
The picture is smooth and sharp, the 4k upscaling works great with older movies and its great for gaming, would highly recommend
Amazing TV, slim and when paired with the Samsung soundbar is a great combination!