Customer Reviews — Tefal VC145140 Steamer - Stainless Steel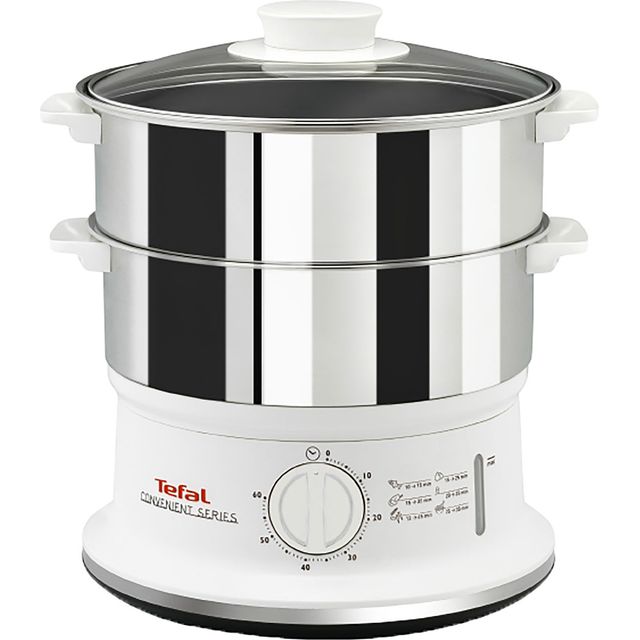 Customer Reviews — Tefal VC145140 Steamer - Stainless Steel
Tefal VC145140 Steamer - Stainless Steel
2 compartments for steaming meat and vegetables

Set the steamer to turn off when your food is ready

900 Watt power output

Automatically switches off when not in use

Dishwasher safe components are easy to clean
A great products and easy to use
This is a great product, finally a steamer with some resilience. We are baffled at the size of the rice container as it's very small and we would have preferred the colour to be black with the steel trays but no matter. Overall a very good kitchen gadget which we will be using alot.
The steamer is an excellent product, baskets made of quality stainless steel ,and of sufficient size, for a large family. Only downside the package had obviously been a return as it was missing some of its packageing badly. Reboxed, and a small damage to the lid. But working well
Best steamer available but could still improve
Good, solid steamer. Heats well, doesn't leak. The design could be improved by making the top basket also fit the base (by itself) as at present you can only use the top basket with the lower basket. Also this means that when you store (lower basket inside the upper basket) then the baskets slide off the base irritatingly. The water container holds just about enough water for a full steam of potatoes in one tray and full of veg in the other - but only just, so also make the water container a bit bigger as the slide out refill spout is useless. Although these improvements would make it outstanding, this steamer is still the best one i have ever had. Like the stainless baskets and the glass lid.
Very good quality, steams vegetables evenly and although only two baskets they can contain more than our previous steamer. Easy to clean too.
The product is amazing ,my old one broke and I thought I wouldn't get anything as good but to be honest this one is better and it stores away neatly ,and so easy to clean .I'm even thinking of buying my son one for christmas .
Extremely well made and a beautiful piece of equipment and a bonus it's dish washer safe
What a great steamer , it takes up less room than are old one but still hold plenty of veg and because of the stainless steel steam baskets and the glass lid it's easy to clean. I have no negatives to say about this product.