Customer Reviews — Bosch Serie 4 WTH84000GB 8Kg Heat Pump Tumble Dryer - White - A+ Rated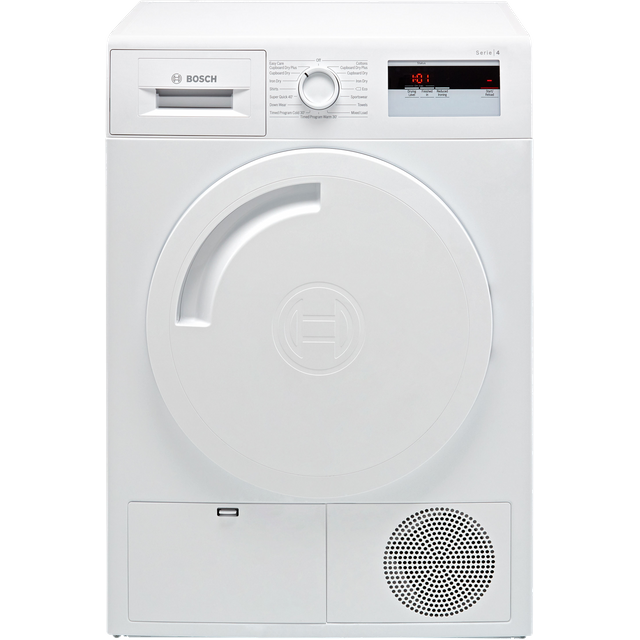 Customer Reviews — Bosch Serie 4 WTH84000GB 8Kg Heat Pump Tumble Dryer - White - A+ Rated
Bosch Serie 4 WTH84000GB 8Kg Heat Pump Tumble Dryer - White - A+ Rated
8kg drum capacity - great for medium-sized households

Efficient Heat Pump technology uses less energy

Sensitive drying system gives fabrics better protection

Quick dry programme - great when you're in a hurry

Dimensions (cm) - H84.2 x W59.8 x D59.9
Very easy to use and appears to efficiently dry clothes
I love it but also hate it..sadly hate out weighs the love. Love it because it drys clothes virtually crease free keeps them soft no need for softener nothing seems to shrink when drying and no need for a vent tube...the double filters seem to gather less fluff from whatever's drying so definitely kinder/gentler on clothing. . Hate it because from first use it takes hours to dry and still leaves seams or slightly thicker edges/seams to clothing or sheets still damp on any setting even when clothing turned inside out...even with just two T Shirts drying on 'cupboard dry' setting so have to set for another 30 minute non sensor dry. Drying two single linen sheets bundles them into a ball so have to untangle them halfway through drying. Gone now are the days when I could do a quick 'wash and wear'. I now set the dryer for overnight dry and have to finish off with the 30 minute non sensor dry the next morning or pop items on an airer to finish off. Used to be able to completely dry many items within an hour using my previous Bosch without the sensors. I have found the machine to be time consuming so wouldn't recommend for a busy or large family.
I really can't work out the best way to dry anything ?????. Why don't they make instructions simple? Cupboard dry or cupboard dry plus, how does that make sense. Surely you want your items dry ! I'm disappointed up to now I'm afraid ??
Absolutely useless. My old vented dryer dried clothes in 20mins. This thing runs for three hours and the clothes are still damp!!
Fantastic. Worth every penny.
When my old dryer, a hotpoint, started leaking I thought I would buy a new and different brand. I researched and decided to go with Bosch and I'm not disappointed. It dries well, and evenly. What I love is that the clothes come out ready for folding and hanging doing away with ironing for whopping 90% of my washing which is 7 or 8 loads a week. I even put a load on late in the night expecting creases in the morning but no, it was crease free and ready for hanging. Marvellous machine for a busy working mum of 2 toddlers!
You are led to believe this is an efficient and environmentally friendly tumble dryer, the only downside is it DOESN'T DRY YOUR WASHING, regardless of which setting you choose
The dryer is really quiet and easy to use. The only issue I have is that the only programme that allows 8kg of clothing is the 'cotton' all others restrict you to a ridiculously small amount of washing. However, the programme seems to detect how long the load needs so everything is on cotton!
Great service and great product
Delivered within a few days of order. The guys delivering the appliance phoned ahead and were bang on the delivery time that was predicted. Was in the house in about 2 minutes and the appliance was up and running and drying clothes within half an hour. Easy to use and a great help in a house with a young child....