Customer Reviews — Bosch Serie 4 WTH84000GB 8Kg Heat Pump Tumble Dryer - White - A+ Rated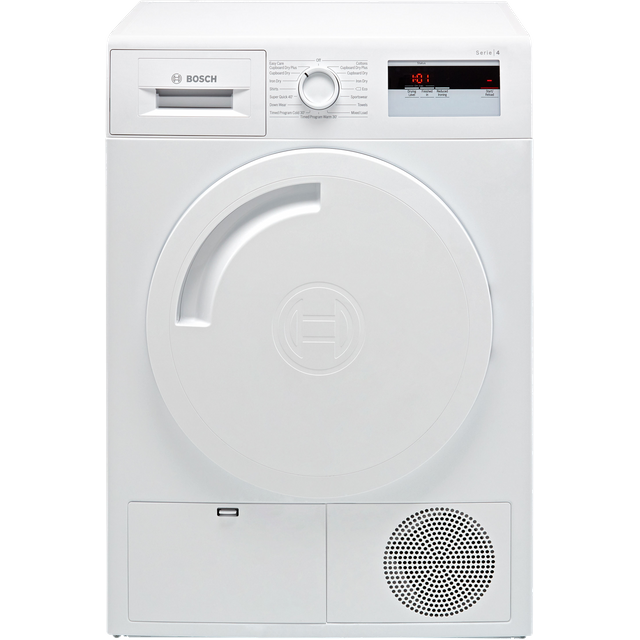 Customer Reviews — Bosch Serie 4 WTH84000GB 8Kg Heat Pump Tumble Dryer - White - A+ Rated
Bosch Serie 4 WTH84000GB 8Kg Heat Pump Tumble Dryer - White - A+ Rated
8kg drum capacity - great for medium-sized households

Efficient Heat Pump technology uses less energy

Sensitive drying system gives fabrics better protection

Quick dry programme - great when you're in a hurry

Dimensions (cm) - H84.2 x W59.8 x D59.9
Really good dryer, despite some reviews it really does dry everything thoroughly, even on eco mode.
Bosch Series 4 Heat Pump Tumble Dryer
I am extremely pleased with this dryer. It does not take as long as I expected to dry the clothes, I had read previous reviews and thought it would take longer. You have to experiment with the different programmes to find out which ones suit your load. It is extremely economical and also much quieter than my previous machine. I would highly recommend this product. Service & delivery from ao has been excellent.
Fantastic price for such an eco unit
I have had a Bosch classic 7 for 8 years and it didn't skip a beat! I replaced it with this unit and so far it's also fantastic and 50% more efficient too. It does take longer to dry clothes but that's just the technology used, the good thing about it taking longer though is the intelligence of the programmes. It leaves the clothes softer and less creased. And I only really used the mixed load setting. Overall, such a good product and I hope it lasts as long as my last one did, (I could have even repaired that)
I am very happy with product so far.  It has probably more programmes than I need but very good value for the money.It is quiet in operation and being of the condenser type, does not require a hole in the wall or dangling a pipe out of the window. Moisture sensor is very useful Very happy with this product and ao service.
I bought the drier not really understanding anything about the new heat pump design and was surprised to notice how much cooler the clothes were compared to my older machine; the more reasonable temperature certainly helps with creasing and minimises the cost. Really surprised about the amount of moisture captured, this will help keep the house dry in the winter because radiators were previously used but it makes upstairs rooms damp.......things seem to be much better now.
Chose Bosch as a leading brand in terms of quality and performance and this delivers as expected.
Very clever drying computer
Once you get the hang of the fact that this a computer which dries your clothes and not an on/off tumble dryer, it's brilliant. Don't be fooled by the amount of time it says at the start of a programme, it is always much shorter than that and stops when your clothes Are dry. We had to set it to drying level 3 to get them properly dry.
One star Bosch, 5 Star AO service
it took 6 hours to dry a load consisting of a single bed's linen. Bosch told me that this was because it only works at a room temperature between 15-30 degrees (yes it is in the instruction book) This is unlucky if its winter and you have an unheated utility room. Bosch did however send an engineer to look at it after I agreed to pay for the visit if my dryer was functioning at the level of Bosch's specification. The engineer finally realised the heat pump wasn't working probable coolant leak. AO swapped the machine straight away for a Hoover dryer. Full marks AO. One star Bosch