Customer Reviews — Bosch Serie 4 8Kg Condenser Tumble Dryer - White - B Rated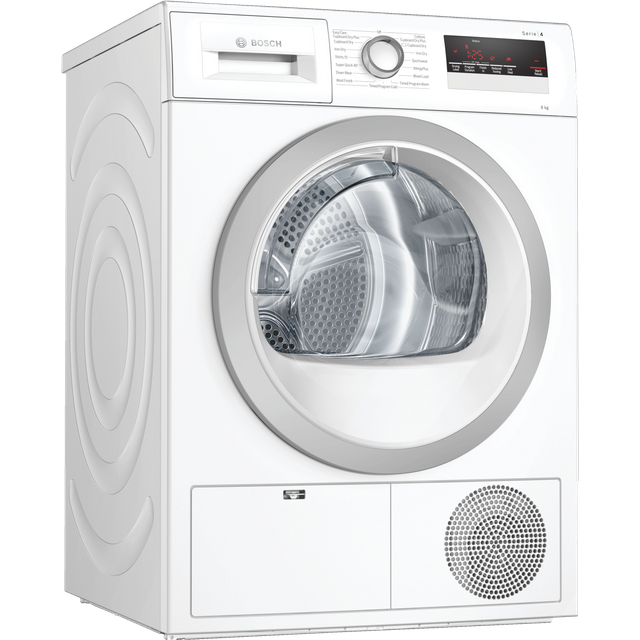 Customer Reviews — Bosch Serie 4 8Kg Condenser Tumble Dryer - White - B Rated
Bosch Serie 4 WTN85251GB 8Kg Condenser Tumble Dryer - White - B Rated
8kg drum capacity - great for medium-sized households

Sensors work out the perfect drying time

Sensitive drying system gives fabrics better protection

Anti-allergy programme removes allergens from clothes

Dimensions (cm) - H84.2 x W59.8 x D65.2
Great product, really easy to use and goes well alongside our Bosch washing machine too!
Condensing dryer not working well
No matter what program is used the censors shut off the dryer too soon leaving the washing damp or still wet. The only setting that actually dried the laundry was the timed setting which overrides the sensors. A hi price for a dryer that doesn't work as it should.
The dryer is good overall for larger loads, however if you put in a single item the programme ends too early before it is fully dry. You will need keep putting it back on. Maybe a little more research needed on the drying sensors and hopefully this will be rectified on newer models.
(Now) Happier Mum of two messy children
Loving having dry clothes and not having to hang them out and then wait for it to dry. We had a washer dryer from Samsung which never really did a good job. Even with a half load, clothes would still be wet, or the water from the waste pipe would drain back into the stump and we'd have dry clothes sitting on half soaking wet clothes. The dryer part stopped working recently and we had to use our electric airer throughout all of winter. Clothes hanging everywhere! But this Bosch dryer is a treat! I did my research before I bought it as we had a limited budget. We have a newborn who goes through clothes, sleeping bags and sheets like nobody's business. I sometimes run out of cotsheets at night from all the regurgitation! We have dozens! I also have a messy toddler so our laundry really piles up. This dryer has been a godsend. We use the mixed load and cotton dry presets most and only once was one of the bamboo 2.5tog sleeping bag slightly damp. We aired it on the utility radiator and it was bone dry in 20mins. Most of our appliances is now Bosch. Once the washing machine breaks down completely, I'll replace with a Bosch.
Quiet, lots of programmes and gigantic drum
Good improvement over old dryer
This Tumble Dryer replaced a 10 year old Bosch. As you'd expect it dries faster, but it is also much quieter and was light enough for me to safely lift on top of my washing machine (using Bosch fixing kit) on my own. So far so good!
Very easy to set up and use. Found that towels were still a bit damp after the first cycle so have to dry them more than once but overall happy with it.
Bosch condenser, great value, great product.
Still getting to grips with it. Like the size of the drum, much bigger than our old one. Like the flexibility of setting times of the set programs, moving from vented to condenser dryer the efficiency of drying is, as expected, slightly less with the condenser, but it is possible to choose your own times to get clothes just how you want if the preset is not as dry as you want. Looks great too, matches in with our other Bosch appliances. Love how easy it is to change the water collector, makes me wonder why other brands seem to put it behind bottom panels. Being a condenser you need to empty the water every run or every other run, so why not make that as easy as possible like Bosch have ???? So 5* so far, but it is a little too early to really give a full review. But it's a Bosch, with great build quality. I expect it to be bullet proof