Customer Reviews — Bosch Serie 6 WTR88T81GB 8Kg Heat Pump Tumble Dryer - White - A+++ Rated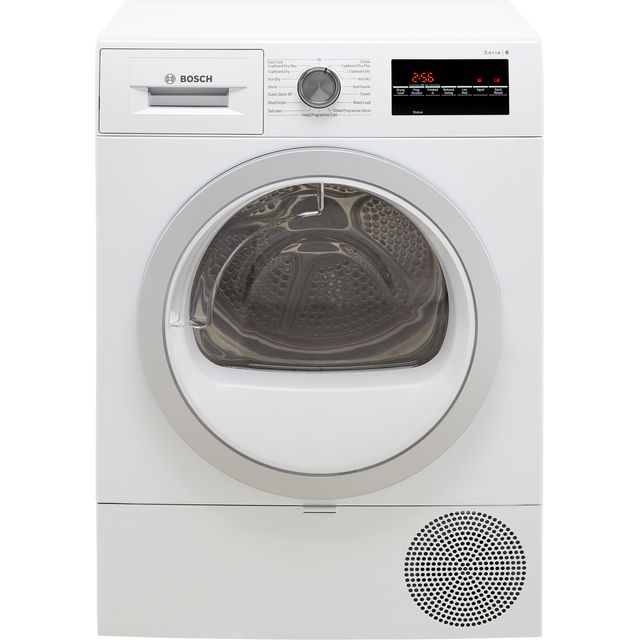 Customer Reviews — Bosch Serie 6 WTR88T81GB 8Kg Heat Pump Tumble Dryer - White - A+++ Rated
Bosch Serie 6 WTR88T81GB 8Kg Heat Pump Tumble Dryer - White - A+++ Rated
8kg drum capacity - great for medium-sized households

Efficient Heat Pump technology uses less energy

Sensors work out the perfect drying time

Gentle programme for delicate woollen items

Dimensions (cm) - H84.2 x W59.8 x D59.9
Tumble dryer is efficient, and quiet. It was very easy to install. Very pleased.
I like the big drum size, its fairly quiet too, and hopefully being A+++ will be reasonable cost wise running it in the long term. I've plumbed mine in to the waste directly, so I don't have to worry about emptying the cassette (its not clear that the connection kit is included, but it was there inside the drum) Lots of programs, why do all the manufacturers put in so many? its supposed to be an intelligent machine that senses when its dry. Initially I left the programs alone but I found the clothes too damp so you can up the default time - I did this to the maximum setting (needs doing on each program - but once set it retains the setting) and its been fine for me, obviously this increases the time as well, but its okay for me. Didn't go with AO extended cover as it starts straight away and costs a fair bit, you get 2 years warranty as standard from Bosch, and if you register it with Bosch on-line you get an extra 3 years cover (5 in total) for £80 - I don't know whether I got any discount as I already have a warranty for another appliance too, but I think the normal is £100 for the extra 3 years, either way its cheaper to stick with Bosch for it - correct in September 2020.
Lovely tumble dryer leaves towels really fluffy but takes double the time to dry compared to an ordinary dry.
Quick, Easy, Eco Friendly (for a tumble drier!)
Easy to use and super energy efficient. Best yet is that AO price matched another seller so it was cheap too! The programmes take 2-3 hrs, but whenever we've used it it's taken a lot less than that because the sensor inside switched it off when it was dry. Love that you can either plumb in the condenser water outlet (we stuck ours in next to the washing machine outlet) or just use the built in condenser drawer if you can't plumb it in.
Only had for a couple of weeks so time will tell. First impressions are great - well-built, drys really well, not too noisy and easy to clean filters. If it carries on like this for years to come it will be a brilliant purchase and worth the extra money Vs cheaper alternatives.
Excellent product ,quiet & uses no electricity while the solar panels are running during the day ,it does take a bit longer than our previous condenser ,but its using 3/4 less power at night 5 out of 5 from me
Used this straight away after setting it up and it did not disappoint. Some items have come out damp but this is when there we have mixed clothes of different thicknesses. Once sorting before putting in then all has been good. Don't worry about initial long drying times as the automatic recalculation has always shortened the time. Can't fault it so far!
Happy with the product. Very good quality
Very good quality. Only been used for a week so far but happy with it. Different dry cycles depending on the load. Very quick And quiet dry cycle.