Customer Reviews — Lenovo Smart Clock Essential with Google Assistant - 3.8" Screen - Grey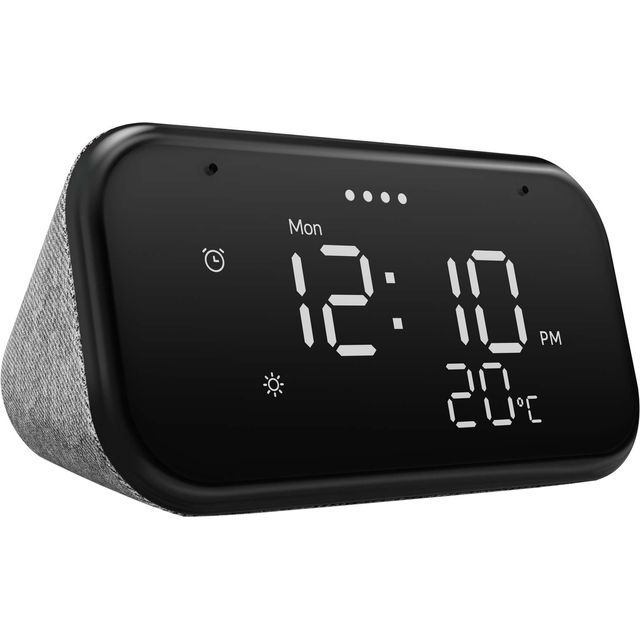 Customer Reviews — Lenovo Smart Clock Essential with Google Assistant - 3.8" Screen - Grey
Lenovo Smart Clock Essential with Google Assistant - 3.8" Screen - Grey
Voice-controlled WiFi speaker for your home

Google Assistant - ask questions, set reminders & more

Play music from popular streaming services

Control other smart devices in your home

Built-in nightlight gives your space a gentle glow
Great clock, good sound, easy to set up.
Stylish, well designed, with great features
Really pleased with this purchase, it looks good and works really well. Good value for money.
Very good product. Very good quality. Really pleased with it.
Some nice features for a digital clock but hopefully these will be developed further to complete the device. For example the screen brightness needs to reduced even further in the dark. The current lowest level still lights up the whole room! For such a small speaker the sound quality is better than expected.
Small, compact and well built. Brilliant clock.
Brilliant little device, just looks like an ordinary clock but with Google assistant brings it upto date. Easy read display of clock and temperature and you can even set the alarm by your voice. It also has built-in sound effect such as rain, ocean, streams and much more. It also has a led nightlight at the back which is handy for getting up in the middle of the night. Small, compact and well built.
Very happy with this clock.
Lovely little clock. It works well with our Google Home network.
Excellent smart clock, I bought 6 of them a very nice gift to give to. Now I can listen to all my favourite Radio Stations. Thank you AOL Best Wishes Nilesh
Great little gadget Good looking good sound ????