Customer Reviews — Zanussi Built In Double Oven - Stainless Steel - A/A Rated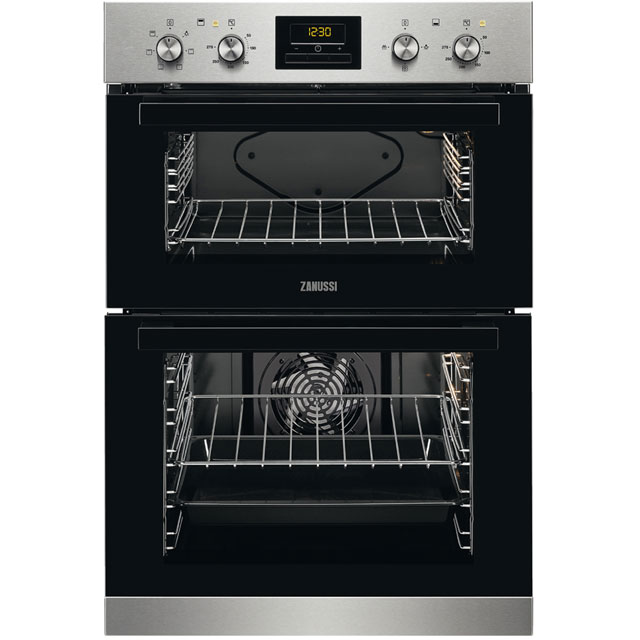 Customer Reviews — Zanussi Built In Double Oven - Stainless Steel - A/A Rated
Zanussi ZOD35621XK Built In Double Oven - Stainless Steel - A/A Rated
Main electric fan oven cooks food evenly on every shelf

Second electric oven with handy grill setting

Set the oven to turn off when your food is ready

Grease-proof enamel coating makes oven cleaning easy

Dimensions (cm) H88.8 x W59.4 x D54.8 – Learn more
Ideal oven for a small kitchen, reliable and easy to use!
Lovely stainless steel/black double oven.
Replaced 16yr old Zanussi Double oven. This one is so quick to heat up, internal light is better and I am pleased with the first cake I cooked! Only thing I have to Watch is the oven controls are the opposite sides to my old one. Excellent product for the money.
We spent a long time looking at different double ovens and are very happy that we choose this Zanussi. It looks greats and blends very well in our kitchen alongside our cream cabinets with silver handles, white large appliances and black small appliances. We really like the dials on this oven. Even though they don't push to hide, they look great and the temperature and oven setting markings around the edge are extremely clear and visible. There are quite a few modes, but the instruction booklet is very easy to understand and explains all the features. The feel and build quality is excellent as you would expect. In terms of cooking, everything we've cooked so far has been perfect. The fan does a great job of ensuring heat is evenly distributed and the temperatures seem well maintained as everything comes out the oven as expected once the timer goes off. Speaking of the timer, the various timer functions are also very useful. You can set it in various ways, for example to stop cooking after a period of time or set a delayed start. You can also simultaneously set a separate timer that doesn't affect the oven operation - really useful to alert you to perhaps add something which requires less cooking or to start boiling something on the stove to accompany the food cooking in the oven. Overall a brilliant product.
Our old oven went bang, and with a family we couldn't be without an oven. So jumped on AO, such a huge range, great info and reviews to read. Placed an order and delivered quickly, with great service. Thank you so much.
This oven looks good only negative is not sure what colour the light should be when up to temperature. Also it left a bit of a gap at the bottom of my unit as it was a bit higher at the top. Overall though lovely oven at a good price. Very efficient and now realise how bad my old one was. AO were spot on with delivery too.
I am extremely happy with my new Zanussi oven. It's much quieter than my old one & heats up really quick. The price was excellent, great value for money. It's the first time I have bought a Zanussi product but it won't be the last.
I love my new oven. It looks good and cooks my food a lot faster than my old oven. The main oven capacity was bigger than a lot of the other ovens I looked at. Highly recommended.
Looks smart, cooks well. It's a good standard oven,well priced for what you get. The doors don't lower as far as my old one so its a little harder to reach the back to clean, but it's SO much nicer than my old one, it's a minor issue. Also the oven shelves have a lip around the edge which is helpful to ensure that your food doesn't slide off, but also means you don't have such easy access to pick up the baking tray because of the lip. All in all, I'm happy with my purchase.