Customer Reviews — Sage The Smart Oven Pro Mini Oven - Stainless Steel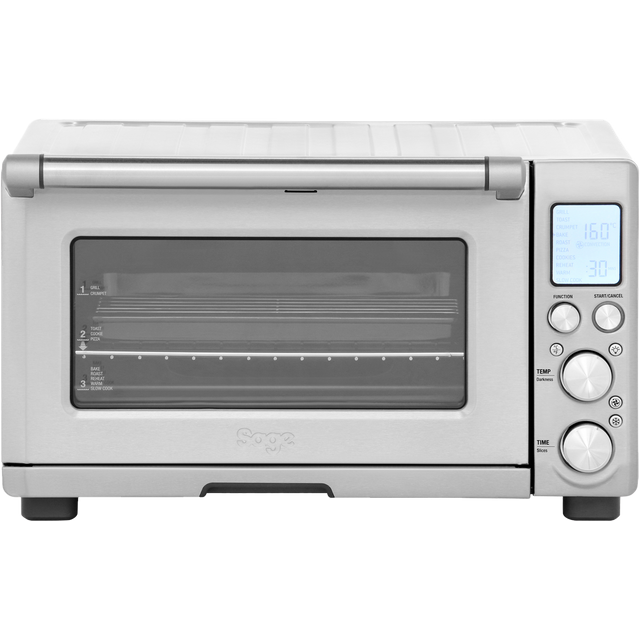 Customer Reviews — Sage The Smart Oven Pro Mini Oven - Stainless Steel
Sage The Smart Oven Pro BOV820BSS Mini Oven - Stainless Steel
2400 Watt power output

Clever heating technology for perfect cooking results

10 pre-set functions take the guesswork out of cooking

Special pizza function creates the perfect crispy base

Slow cook function prepares deliciously succulent meat
Multifunctional table top oven. Simple and easy to use.
Big Saving on the Electric
Although early days yet, it seems very good. It should save quite a bit on the electric, as I'm using this 20L oven instead of my 62L oven. The new one heats up very quickly, 200deg. in 4.1/2 minutes. As there is only one wire rack supplied, I purchased an additional one extra. Should I ever need any new elements, I'm not sure how easy it will be to obtain the parts.
Good quality and simple to use.
This oven is similar to one I've had before so I knew I would like it. The oven is very easy to use and the controls are simple and clear. The way the shelf comes out when you open the door is a clever bonus. Such quick and easy ordering/delivery. Very impressed with that.
Fantastic little oven. Quiet, cooks food perfectly
This oven is very easy to use and saves on electricity as well. I bought a chopping board to put the oven on as when the door is open the handle hits the worktop. Easy to transfer hot food from the oven with it being on the worktop. The timings of cooking meatballs needed adjustment (maximum temperature pre heat then turned down, the customer support from sage is brilliant! I still need to adjust how I cook mushroom burgers but still early days. Great oven and best thing I've bought!
This oven is brilliant. Brought it to replace a Dualit oven.the new one is bigger and better.Every home should have one.
Great product. Everything is says it is.
Fab, I love it, wish I would have bought one before now.