Your cooking, your way
Create restaurant quality food at home
---
Be the master of your cooking experience with AEG's Mastery range of intuitive kitchen appliances. From the second you chill your fresh groceries to the moment you serve the perfect meal, these appliances respond to your every command with total ease and precision.
Introducing your new sous chef
---
Take your passion for flavour to the next level with AEG's range of ovens. With incredibly intuitive cooking features, like SurroundCook, you'll craft delicious restaurant quality meals, every time. Whether you're roasting a succulent chicken or baking a loaf of artisan bread, this feature uses advanced fan technology to distribute an even heat around the oven, to give you beautifully consistent results that are cooked and crisped to perfection.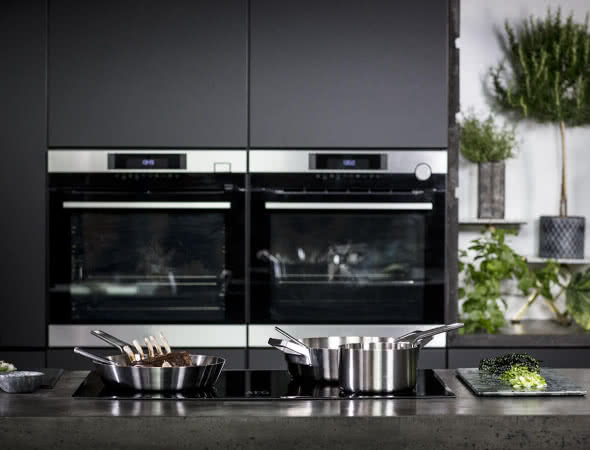 Incredible texture, delicious results
---
Discover a new way to cook with a range of professional steam features. Cooking with steam locks in the natural moisture in your food, so flavours are enhanced and meat and fish remains healthy, succulent and exceptionally tasty.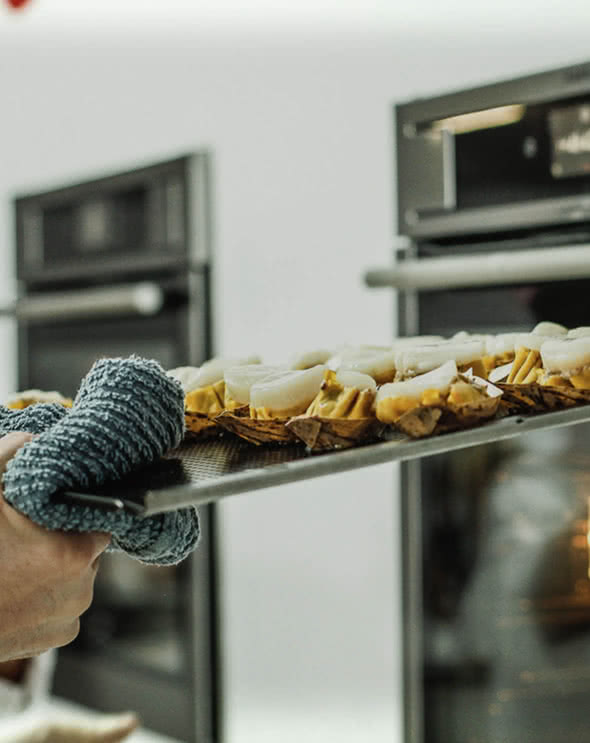 SteamBake
Your show-stopping cakes and bread will get a helping hand with AEG's clever SteamBake, which uses a blast of steam to make sure they are wonderfully fluffy inside and perfectly risen on the outside.
SteamCrisp
Take your cooking one step further with a touch of steam mixed with heat. SteamCrisp gives you a deliciously crisp skin on your chicken, whilst keeping all that succulent moisture on the inside.
SteamBoost
Lock in all that moisture and make the most of incredible taste and aroma. With a gentle boost of steam, you'll enjoy the fullest flavours on everything from fish dishes to vegetables, and even desserts.
SteamPro
Thanks to incredible SteamPro technology with its SousVide setting, flavour will be enhanced and colours will be vibrant. Perfect for wowing your dinner guests.
Shop AEG Steam Ovens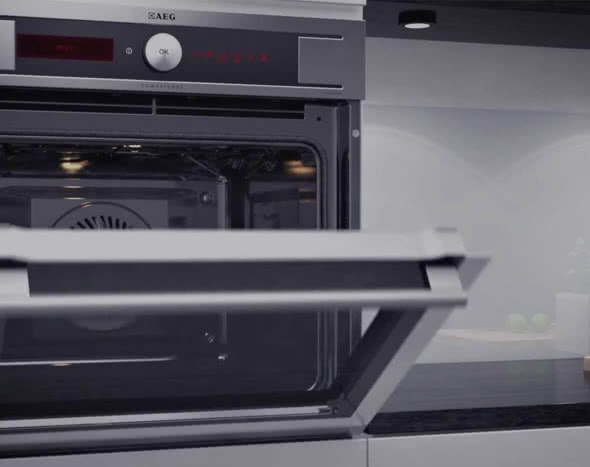 The incredible self-cleaning oven
---
When the dinner party's done and the guests have gone home, you can let the self-cleaning Pyrolytic function do all the hard work. This helpful feature uses exceptionally high temperatures to turn grease and food splatters to a small pile of ash that you simply wipe away. And because the door locks tight whilst the oven gets to work, it's perfectly safe to use.
Shop AEG Pyrolytic Ovens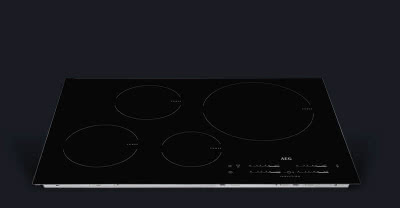 Sear, simmer and serve
---
Customise your cooking area with a versatile AEG hob. Choose from traditional gas hobs or precision induction technology, which heats the pan uses electromagnets to heat the pan and not the hob for safe, efficient cooking. The FlexiBridge induction feature is perfect for large pans or for when you're preparing lots of dinner party dishes at once. This works by combining up to 4 cooking zones, so you'll enjoy exceptional performance and an even, consistent heat.
Shop our favourite
Shop AEG Hobs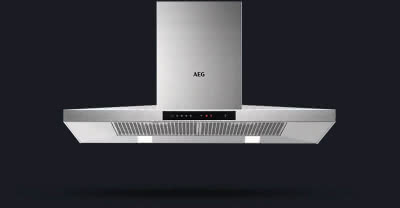 Clean air, clean kitchen
---
An AEG hood will keep the air in your kitchen beautifully clean. Using intelligent Hob2Hood technology, these hobs have been designed to work in perfect harmony with your compatible AEG hob. The extraction level will automatically adjust, so you can concentrate on frying succulent steaks and boiling perfect pasta. And with their stunning stainless steel design, a chimney or ceiling cooker hood will look beautiful in any contemporary kitchen.
Shop our favourite
Shop AEG Cooker Hoods
Great performer gets my golden vote!
"I love this oven. It looks really modern in stainless steel and it's very easy to set up and use."
Dishwashers
---
Take easy cleaning to the next level
Experience the world's first ComfortLift dishwasher. This innovative feature lets you gently lift the lower basket up to an easy working height. You won't have to bend down to fill it, which means you can stack your dishes much more efficiently. And with AirDry technology that automatically opens the door at the end of the cycle, your crockery, glassware and plastics will dry quickly and naturally, saving you energy and time.
Shop our favourite
Shop AEG Dishwashers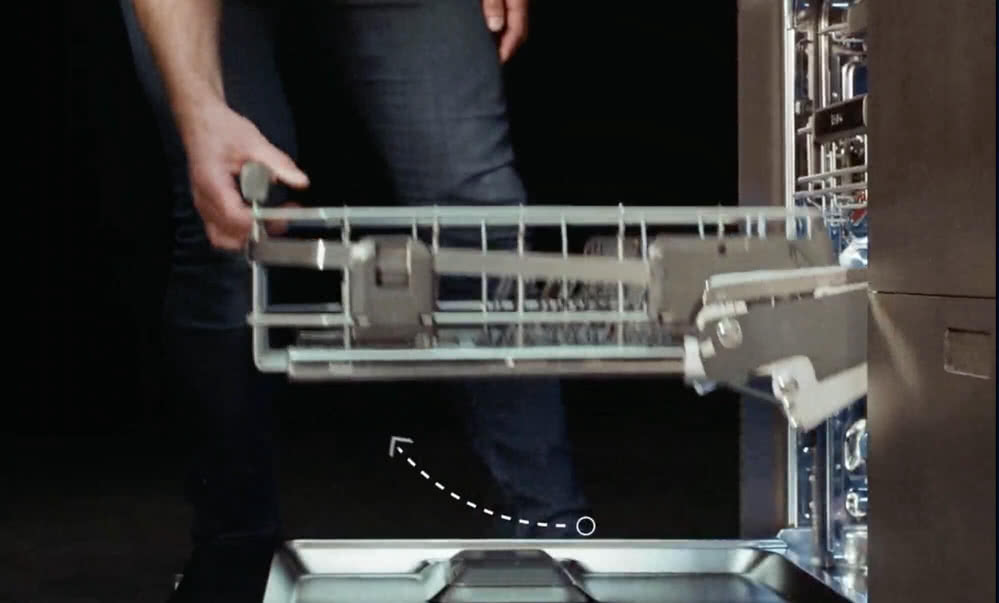 Quality feature laden dishwasher
"Overall, we are extremely pleased with this product. It provides great cleaning functionality, flexible loading options and the fantastic 'Comfortlift' feature."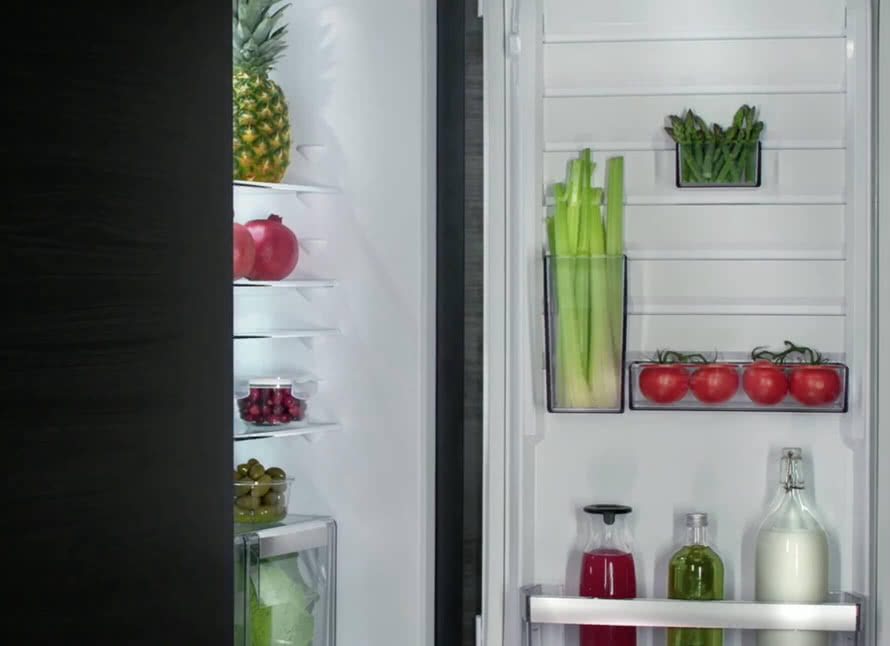 Fridge Freezers
---
Flexible storage, fresher ingredients
Get complete flexibility when it comes to chilling your favourite ingredients. With CustomFlex storage, you can switch and swap the shelves and drawers inside your fridge freezer in a matter of seconds. And because AEG's freezers feature NoFrost – the best ice-free technology available – you'll be storing your ingredients in a high-performing appliance that you'll never need to defrost.
Shop our favourite
Shop AEG Fridge Freezers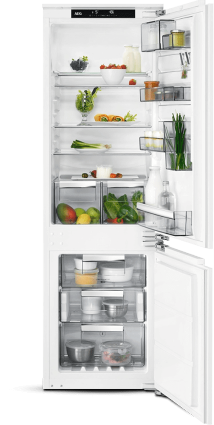 Fantastic build quality and flexibility of storage
"This is overall a great fridge freezer from AEG. The fridge freezer is built well, is sturdy and looks great in our kitchen."