Desktop PCs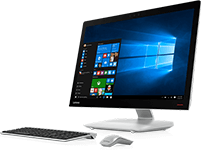 All-in-Ones
Your PC is built-into the screen with the
mouse and keyboard included
Want the lowdown on desktops?
Find out the top 5 things you need to know when choosing a new one
Read buying guide
Whether you're after a powerful tower or an all-in-one PC to save space in your home office, we have a variety of different desktops for you to choose from. So, you'll be able to find the perfect PC to suit the whole family.
If you're a keen gamer, we have a whole handful of gaming PCs too. We've rigs for beginners, as well as desktops equipped with graphics cards and monitors that let you enjoy VR and 4K gaming.
You'll even be able to shop all the best brands, including Apple's range like the Apple iMac and Apple Mac Mini, as well as MSI, HP Pavilion and Lenovo. So, whether you're after a day-to-day tower or a state-of-the-art model for your design work, you'll be able to browse a range of trusted names.
All our desktop PCs house different types of processors. We've Intel® Celeron® and AMD Ryzen 3 processors to handle simple everyday tasks, as well as the high performance Intel® Core™ i9 and i7+ processors to tackle the most demanding software.
If you've narrowed it down to a gaming desktop, you'll have a choice between a wide range of stunning screens. From 17 inch Full HD desktop screens up to 23-inch 4K Ultra HD displays that look stunning, we'll have a model that's perfect for you.
Struggling to find the right desktop PC? We've a PC buying guide filled with advice and tips to help you out. And when you're ready to start shopping, check out our desktop best buys and deals page for great offers.