Customer Reviews — Russell Hobbs Maxi Deep 24570 Fryer - Black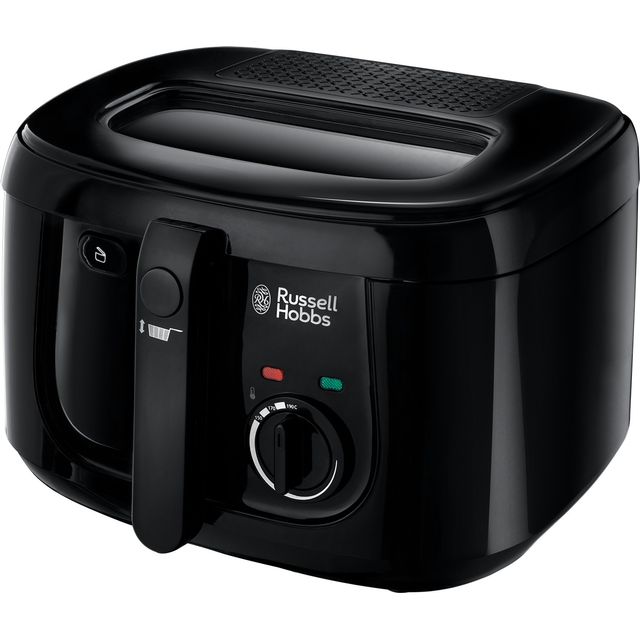 Customer Reviews — Russell Hobbs Maxi Deep 24570 Fryer - Black
Russell Hobbs Maxi Deep 24570 Fryer - Black
Has a 1kg food capacity

1800 Watt power output

Transparent window lets you monitor your food

Clever filter prevents lingering cooking odours

Removable tray and basket are easy to wipe clean
Really good product easily feeds a family with plenty of chips
Neat and petit, perfect for my family!
Fantastic little fryer!! Although it's family sized, it's still neat and petite and fits nicely in the corner of my kitchen side. I love the handle on the frying basket, it makes it so much easier to use than other similar products on the market. The basket actually fits the size of the frying pan as well,keeping your chips inside the basket instead of floating off everywhere else, it keeps my fryer cleaner and fresher, nobody likes those burnt and previously fried chips floating back in. My only gripe would be the base pan isnt removable for easier cleaning. Fantastic service as well!
Didnt stop smell of cooking chips infact I think it gave off worse smell than on stove top chips
It's to small for a family of four and I thought it took ages to heat up and to cook the food
AO call centre helpful and the delivey efficient. Product does the job very well.
This deep-fat fryer is very cheap and it shows. The whole thing is very flimsy and, frankly, I expected better from Russell Hobbs who I was led to believe was an top-end manufacturer. I loaded the fryer on a level surface so that the level was midway between the 'min' & 'max' marks yet the chip basket in its raised position was still touching the oil so frying starts before you intend it and continues after you think you've finished!. This would have been even worse had I filled the pan to the 'max' mark. In this respect, it's a very poor design. In fact, 3 stars is probably too generous. At least the thing works and, thankfully, we choose not to deep-fry too often but I couldn't recommend it at all. I suppose you get what you pay for. In hindsight, it would have been better to pay more for a more substantial and better designed product.
Love it, compact size for keeping on worktop and makes gorgeous chips in no time at all. Easy to clean, looks alot more expensive and well worth buying. Does plenty of chips for 2 people, you could probably get 3 portions. Definitely the best fryer I've had, and I've had a few over the years
Iv got an air fryer but miss the taste of fresh chips and have to say the deep fat fryer is great easy to handle easy to clean