Customer Reviews — Ninja BN750UK 2.1 Litre Blender with 2 Accessories - Black / Silver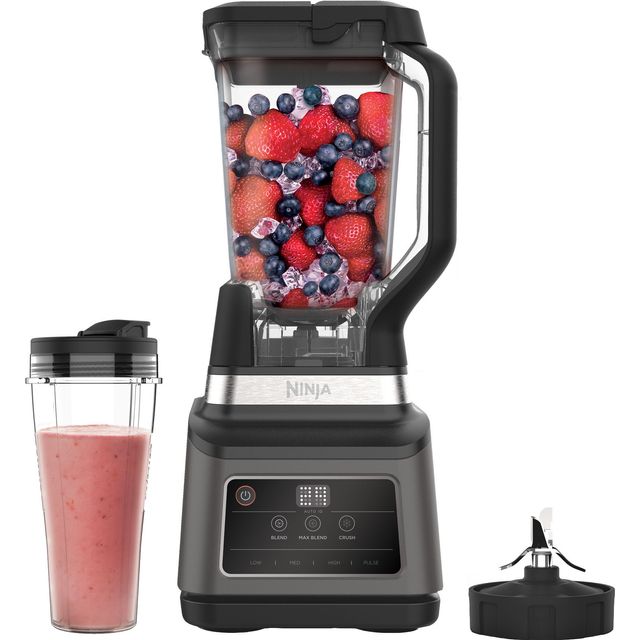 Customer Reviews — Ninja BN750UK 2.1 Litre Blender with 2 Accessories - Black / Silver
Ninja BN750UK 2.1 Litre Blender with 2 Accessories - Black / Silver
2.1 litre jug capacity

1200 Watt power output

Sturdy blades break down even the toughest ingredients

Choose from a range of automatic blending programmes

Quick and easy to clean - saving time and effort
great product, easy to use, will encourage the healthy living
Simply the best blender. I've been through a few different blenders over the years and none of them stand up to the ninja. It's extremely solid and blends beautifully.
Only used it once so but does what it claims, bit loud but can live with that.
Brilliant all round - no complaints at all. Had a smaller, rival product before…this is so much better.
It is really good blender, but that is purely what it is. My old blender had a grinder option, so I could mill the seeds before adding to the smoothie for extra smooth texture. This one crashes the seeds, whilst blending to certain extend, but hard seeds shells are left in chunks in the smoothie. If you look for something more multifunctional, than this product definitely is not it. On a box it says prepare your soups and sauces, but blender comes with warning not to use for hot liquids, so you can only blend your ingredients before cooking and with addition of water. As a blender it is great and powerful piece of machine.
Incredible blender Best purchase ever Easy to use, easy to clean. Ready in less than 1 minute
Fantastic reason to upgrade
Fantastic. We had a blender that could crush ice they died (after 15 yrs) and decided to upgrade when we replaced, with one that could do it smoother. Job done! We bought it for the jug, but the cup is so generous that we haven't had to use it yet and have had some lovely smoothies xxx