Customer Reviews — Sage The Fast Slow Pro BPR700BSS 6 Litre Pressure Cooker - Stainless Steel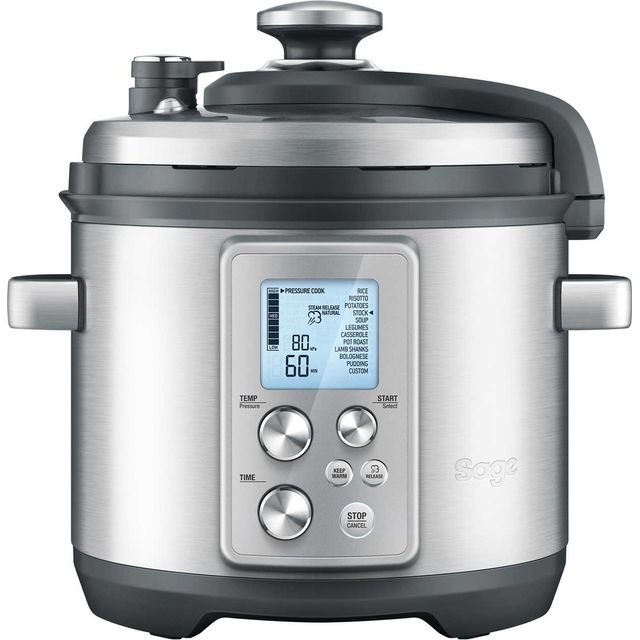 Customer Reviews — Sage The Fast Slow Pro BPR700BSS 6 Litre Pressure Cooker - Stainless Steel
Sage The Fast Slow Pro BPR700BSS 6 Litre Pressure Cooker - Stainless Steel
Knows the time and pressure that different foods need

Sensors monitor ingredients for optimum results

Steam release automatically adjusts to maximise flavour

Slow cook, steam, saute & reduce at touch of button

Easy to read screen indicates when cooking & steaming
like the product. Disappointed that it was reduced by £50 a few days after ordering.
Fantastic item - I have an old fashioned pressure cooker coming to the end of it life and a sage slow cooker that has recently broken down - this is my main cooker now - my son also has one and he uses it daily too! We love them!
amazing product according to my mum
bought for my mum, she says its an amazing product, shes not very good with "modern technology", but she says its easy to clean, easy to use, and quite simply the best slow cooker she has ever had
Love it! Easy to use, versatile, superb quality pressure/slow cooker.
I adore this Sage Pressure/Slow Cooker... I was gifted it by family last year, February 2020, after extensive research, before I told them which one I wanted. I even joined 'Which?', so I could view unbiased/genuine advice/reviews. I am so pleased with it. It is fabulous for hearty winter dishes such as soups or casseroles, (favourite is with lamb, pearl barley and fennel seeds), the meat is so tender. My Sister believes pressure cooking Bolognaise is best? but I like to start off this way, (you can sauté the basics all in the one pot to start with), and then put it on slow cook for 4-6 hrs. Oh gosh and stock is SO EASY to make! just throw any bones/chicken etc in a bag and freeze it until you are ready, and then pressure cook it, and freeze it until needed - makes such a difference to the taste of dishes. It is super easy to use/get to know, nothing to be afraid of. There are plenty of recipes online, I love the booklet that came with it. Before long you'll be winging it. And as a bonus it looks fabulous in the kitchen, mine still looks like new after a year. Always best to pay for the best quality you can afford.
Made up with this cooker... my favourite meals in a quarter of the time !!!! Excellent ????
Best kitchen product ever
Fantastic it does absolutely everything.
Came with everything needed including a recipe book for ideas to get started, instructions where clear and easy to understand. Assembly took very little effort as it mainly just involved removing the packaging. Works perfectly, slow cooker ran through for 8 hours with amazing results and keep warm function saved having to reheat. Many other settings still to try. Haven't tried the pressure cooker function but will do it time.
Awesome multi function cooker
My first venture in to pressure and slow cooking but I'm glad I chose this product. It can handle lots of different dishes - we've made risotto Milanese, popcorn, curry so far! The user interface is simple to follow and the screen explains what's going on really well. Simple and easy design. Great product can't wait to try the next set of dishes!