Customer Reviews — Krups Coffee Grinder - Black / Silver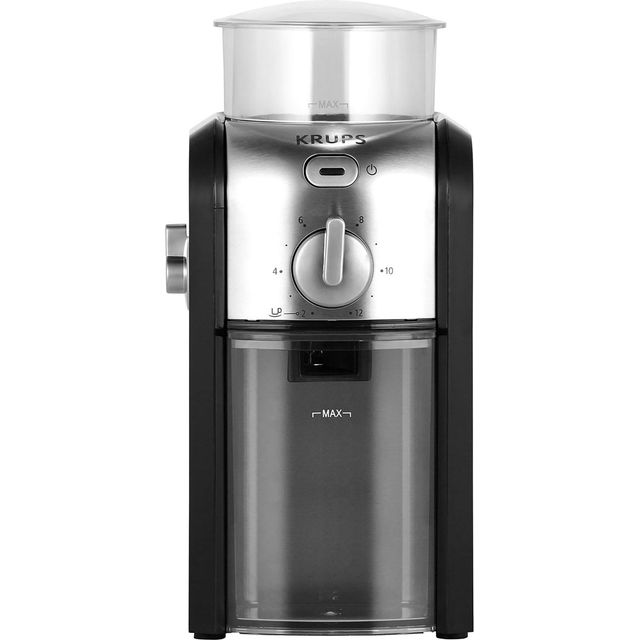 Customer Reviews — Krups Coffee Grinder - Black / Silver
Krups GVX231 Coffee Grinder - Black / Silver
Can grind 200g of coffee beans

110 Watt power output

Variable grinding to get coarse or fine coffee granules

17 settings to choose from

2 year manufacturer warranty for peace of mind
Excellent product and great value
Excellent coffee grinder!
Brilliant bit of kit at a very good price. You can store beans inside the grinder. You can set it to automatically grind for the number of cups you want to make and you can also set it for many different grades of grind from superfine to very coarse. Press start and it will automatically stop when it has enough to make the desired number of coffees. Very convenient.
Great adjustable coffee grinder
Great coffee grinder- adjustable for fine-coarse grind, and will produce only the exact amount you have set so it's as fresh as possible. Quick and reliable. Looks good, and is easy to clean. Great value.
Easy to use and it produces an even grind very quickly. Wanted it for making espresso and it does that well although has many grades of fineness. Looks neat and not as noisy as expected. Score reduced to 4 as the smallest amount it will do is 2 cups. Would be inconvenient if you only wanted one. Also plastic hopper that collects the ground coffee builds up static so it can be messy getting it out.
My sister is a coffee lover, she loved the amount of settings this product had!
Replacement for 30 year old model.
Much quicker, quieter and better than the 30 year old model it replaces. Very efficient service from AO delighted
This is the perfect home coffee grinder, just leave your beans in the top, and select the required fine or coarse grind setting and number of cups. Easy, Can get a bit messy but no more than most grinders Product came in perfect condition, the only thing I'd have to say is that the grinder came in its manufacture packaging, and left on my doorstep, so everyone could see what I'd ordered, haha. But no real problem, I wonder if other items are delivered in their original packaging Too...
Excellent product and price
Good quality product at a bargain price from AO. Delivery info was great and I was kept updated throughout the process on its way to me with the driver calling to let me know I was the next drop. Great customer service