Customer Reviews — Beko 58cm Ceramic Hob - Black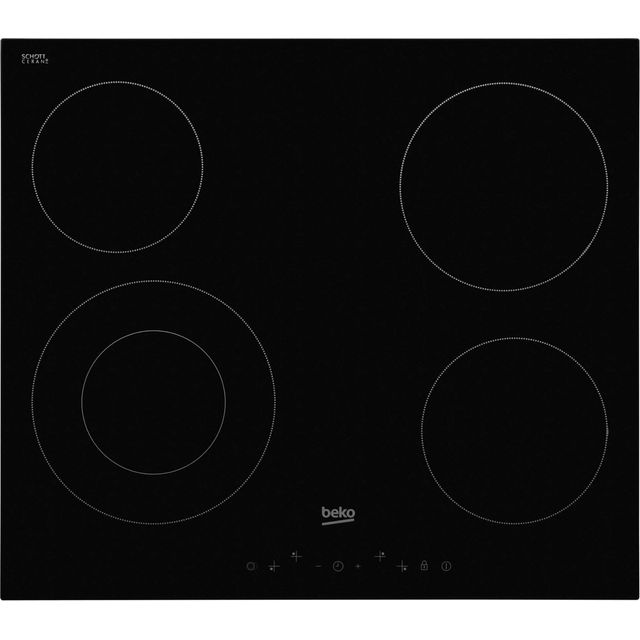 Customer Reviews — Beko 58cm Ceramic Hob - Black
Beko HIC64402T 58cm Ceramic Hob - Black
Standard 4 zone ceramic hob

Indicator shows when the hob is still hot

Easy-to-use touch controls

Lockable control panel for safety

Dimensions (cm) - H5.5 x W58 x D51 - Learn more
I bought this item to replace one that my husband managed to smash with a glass jug!! (he wasn't popular) It's great...no idea what people are going on about. It's easy to use does exactly what the instructions say it does and I'm more than happy with it for the money paid.
Well, I first gave a positive review for this which I bought two years ago as it seemed OK. During that time though, it has become increasingly irritating right up to today - when I've ordered a Hotpoint Hob to replace it. It works exactly as the manual says it should - but is the most irritating piece of kit I've ever come across. It has sensors that detect whether something has been put on the hob that shouldn't be there which sounds great, except that this sees water and cleaning marks as things that shouldn't be there, beeps, flashes fault signs then shuts itself down. Today I've just been mulling some wine - the shadow from the electric steamer was across the hob - it saw it as an obstruction and so shut down no less that three times until I realised what was going on and turned the hood light on to prevent it. Absolutely irritating - I guarantee that you will come to hate it. Don't buy it !!!!!!!!!!!!
This hob is brilliant great price, easy to use. my only negative comment is that the off button gets hot when you use a pan slightly bigger than the ring so hurts ya finger turning it off.
delighted with this product. very easy to operate. has build in lock,and also button for switching all rings off at once. looks good as well
this a geat value for money hob. Heats really quick and tells you if ring is still hot after use. Also great switch off feature if you leave hob on with no pan. Also a built in timer which is handy. If you have small children there is a lock too which is really good. Over all I am well pleased with this item